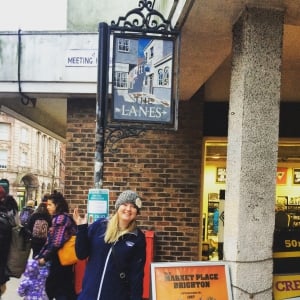 Why did you pick this program?
I chose to go to Brighton, England because I wanted to experience the feel of a small English town. The ease of going to other major cities such as London, or being able to travel to other European countries was another great appeal for me. The academics at the university also influenced my decision because they provided the courses that I needed in order to stay on track at my home university.
What do you tell your friends who are thinking about going abroad?
I like to tell my friends that are thinking about studying abroad to just go for it. The amount of learning that you can acquire during the months that you are in a country as a student or worker instead of as a tourist changes your life. It definitely gives you a better perspective on what is going on in the world.
What is one piece of advice you'd give to someone going on your program?
The biggest piece of advice that I would give to someone going on my program would be to just explore the city. From the fantastic views of the countryside from Stanmer Park, to the pier, and the lanes right in the center of town. There is always something to find and the buses make it easy to access anything. I would also say to never miss a chance to take a train to London, it only takes an hour and there are so many new things to experience just from the train ride.
What's your favorite story to tell about your time abroad?
My favorite story to tell is actually the very first day that I arrived in England. I had never traveled alone before, and I had never had to take a train, or a cab in my life. I traveled from Reno to London solo, and then I took the train from London to Brighton, with all of my luggage in tow. At the train station I had to get a cab to the university itself. That was a struggle because the university where the halls that we are staying at is a little outside of town and the driver had to use my map in order to figure out exactly where it was. I loved the trip from the center of town to the outskirts. When I arrived at the halls I met a couple of my flatmates and we instantly bonded. They helped me move my stuff in and then we headed back into town. They showed me where the store was, and took me to a very popular restaurant in Brighton called Whetherspoons, where we talked and got to know each other. This was a very defining moment in my life. Not only did I make friends that I have continued to develop deeper relationships with, I also learned a lot about how to be more independent.
What made your time abroad unique and special?
I would say that the people I met while abroad are what made my time unique and special. From my flatmates, to my classmates, to the tutors, and the store clerks - they all made my experience. I met many people on the buses after a long day in class. I met other Americans going to school at the other university in town. My flatmates were always up to try something new and go on a new adventure. The USAC advisors in England were phenomenal people. They helped us with anything and everything. I really feel like I set up good roots for life-long friendships with these people. And to me that is always a unique and special experience.