Why did you pick this program?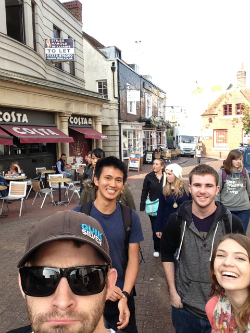 Basically when deciding where to study I wanted to live in an area where the primary language was English, because I'm kind of terrible at learning new languages. I also wanted to be somewhere that I could travel several places rather easily and England was an great fit for that. Finally I looked over pictures of Brighton and know that was the place I wanted to be! The beach, the Pier, the Ferris Wheel, everything just looked perfect. Also Brighton is very close to London which was a huge plus.
What do you tell your friends who are thinking about going abroad?
You have to do it! While you're in college is the perfect time to study abroad. Most people in college are not tied down by a full time career, house payments, car payments, or whatever, so now is the time to do it!
Whether it's only for a term or a year, the things you do when studying abroad are things you'll remember for the rest of your life. The people you meet, you will never forget and you will learn so much about yourself. Everyone that studied abroad told me how much of an impact it had on their life and I always assumed that for me, it would just be some cool experience, but I have to be honest it changed my life.
What's your favorite story to tell about your time abroad?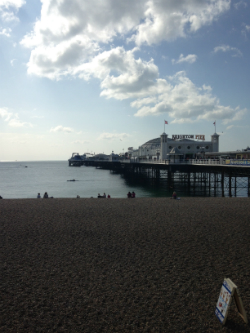 Although this didn't happen in Brighton it is still probably one of my favorite moments abroad. Me and my friend, from my study abroad program, decided to travel to Rome, Italy together. Rome was incredible and we were overwhelmed by the entire city, all the amazing statues, architecture, everything was massive!
We were walking through the city when all of the sudden my friend notices one of the girls that traveled to Brighton in the same program as us. We couldn't believe the odds of that happening in the middle of Rome it was crazy! We wondered the city with her and sat in front of the Coliseum as the sun went down. It was a very surreal moment and something I'll never forget.
Tell us about an experience you had that you could not have had at home.
Bonfire Night was the coolest experience and I was in the best location for it. Bonfire Night happens on November 5th and is a massive celebration of a failed attempt to destroy the House of Lords by a man named Guy Fawkes. They celebrate the fact that King James survived this attempt.
Anyways the largest celebration in the UK is said to be in the town of Lewes which is about a 6-minute train ride from Brighton. Words can't describe this event. The streets were filled with people which is not an exaggeration, people were shoulder to shoulder down almost every street. There were parades in the middle of almost every street, they had cannon blasts going off, people were marching with torches, everyone was dressed in traditional clothes, marching bands were playing music all night!
Every corner of the town was light up with fireworks which lasted for hours and several areas of the town had massive bonfires that were about the size of two school buses side by side. It was said that there were about 80,000 people there that night. It was the most incredible holiday I've ever been a part of!
What is one piece of advice you'd give to someone going on your program?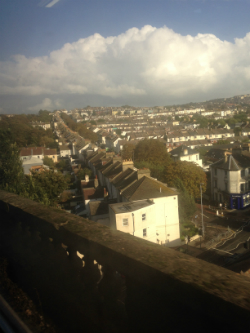 Take advantage of weekend or day trips. There are so many cool places to see that are an hour or two away from Brighton Station. Arundel Castle is a must. It's massive and beautiful. Portsmouth is worth checking out. Visit London often because it has so much more to offer then just tourist destination. Brighton even has several parks that are a bus ride away and have great view of the city. Plus you can go just about anywhere overnight for a fairly reasonable price by bus.
Also take advantage of the of the field trips arranged by the study abroad advisers there. Becca, Mary, and Zoe take you to some really cool places around England and they know so much information about each place. Not only that but they organize everything so you don't have to stress about transportation or where your going to stay.