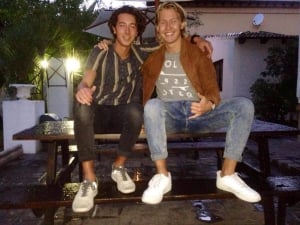 Why did you pick this program?
During the last semester in high school, I developed a passion for languages because of the excellent Spanish teacher that I had. I wanted to continue learning, so I chose EF's program in Málaga because I knew the region - you get the best weather in Europe and the coast. I saw it a little as a vacation, though with school and the work I had to do, motivation was not a problem.
What do you tell your friends who are thinking about going abroad?
Do it, do it, and then do it all over again. I think that everyone who goes abroad arrives in a new place a little disorientated and nervous, but that's totally normal. You see, you'll won't be the only one and that's what makes it so wonderful.
Try to have an open attitude and you will see how easy it is to make new friends. In addition to spending time with the new friends you'll have, don't forget to really explore the place you go to. It doesn't have to be big, the small things often surprise.
What is one piece of advice you'd give to someone going on your program?
Give living with a host family a try if you have the chance to. Language improvement will be so much easier and you won't miss out on much of what the other people are doing. Another thing is that you won't get stuck in old habits. I know so many people who went home from their trip after months of watching TV, studying too hard, or never studying at all. They feel extremely disappointed with themselves and regret that they didn't do more while they had the chance.
What's your favorite story to tell about your time abroad?
I think it was October, raining heavily in Málaga, and I had to take the bus home. There was no one in the streets aside from an old man who I saw fall as he was about to cross the street. I ran over and heard him moaning about his hip and a cut by his ribs.
With my almost non-comprehensible Spanish, I had to call the ambulance and sit to try to calm him down. When help came, he almost ordered me to follow. While at the hospital, after an hour or so, the old man's son appeared. He was so overwhelmed, but thankful that his father was okay. He offered me to come home to his house a couple of days after to meet the rest of his family - I felt that I had to accept.
I found out during the dinner that he was an owner of a big hotel and that he was also interested in improving his English. We agreed on meeting every week to chitchat a little in Spanish and in English. The family was wonderful, I got to improve my Spanish and they also took me to other cities over the weekend, introduced me to surfing, salsa and samba dancing and let me work for them as a babysitter. It's possible that they felt obligated as a thank you for helping out their relative, I'll always feel that I still owe them something in return.
Do you recommend living with a host family, in student residence, or living on on your own?
I would suggest living with a host family. The host family that I had let me be independent, but if I wanted to talk to them they would always be there. If you end up in a situation where you don't feel comfortable you can always change, but I strongly recommend to try it out!