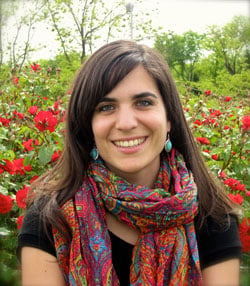 What makes EF Madrid the best school to study Spanish at?
Virginia: EF Madrid is a great place to study Spanish because communication is more than words; it is a bridge to understanding. Students won't truly be effective communicators until they try to understand Spanish speakers themselves, until they live the experience of living abroad, they get immersed in the culture, live in an environment where they are forced to speak in a different language.
At EF Madrid we offer students a broad range of classes and activities to suit a wide range of needs, such as: learn to cook authentic dishes, taste Spanish wines, or dance Flamenco. Experiencing all these cultural elements will make students more comfortable speaking the language.
Do you have any advice for students who want to learn Spanish?
Virginia: Learning a new language can be tough and takes persistence and practice. If the studies turn into a chore, then students won't get much out of them. The best thing students can do is try to keep it fun and interesting. It is quite positive to mix up the routine and do something fun to reward their hard work and reignite their passion for Spanish. At EF Madrid we try to do this combining general language classes, where students learn grammar, vocabulary... with cultural activities where they can practice everything covered during the classes in a different way.
Students also need to speak with native speaker. Just watching a movie, or reading a book isn't going to make students fluent. They have to practice speaking the language and thinking in the language before they will get to the point that they are fluent. And they have to take every opportunity to practice, they need to take learning Spanish a part of your life. While studying in Madrid students can enjoy the experience of living abroad, getting immersed in the culture, and living in an environment where they are forced to speak Spanish.
What is your favorite part about living in the city of Madrid?
Virginia: Madrid is a cosmopolitan and historic city, and a great place to experience the best of Spanish culture, art, and cuisine. I love living here. The thing I like the most is getting lost in Madrid's neighborhoods. Depending on which barrio you currently are, you will know Madrid from different perspectives.
While Argüelles is famous for its animated university atmosphere and Chueca for the colorful gay scene, Malasaña is known for its sweet hippy environment. But I love Madrid for several other reasons, for instance: its great cultural and artistic heritage, a good example of which is El Prado museum; or its nightlife, which is a world reference.