Why did you pick this program?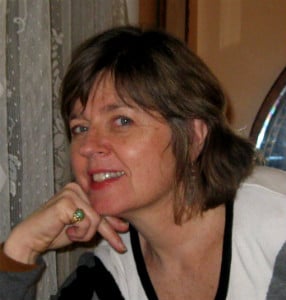 Fast forward 20 years, two children later, I took my two children on a 10 day holiday in Italy. Both children caught the travel bug - a couple months later my son came home with information on a foreign student placement program with EF.
There was a lack of host homes and after initially agreeing to hosting one student, we ultimately converted our finished basement into a male dormitory and hosted 4 students. So it was an easy decision to look at the EF immersion language program when I decided to study language actively abroad.
What do you wish someone had told you before you went abroad?
If you are talking about the first time abroad - well, nothing as I was well prepared for Italy by a friend who had lived there for 20 years. What I'd recommend for the first-time adventurer, is to seek out at least others who have been abroad, but if you have the opportunity to speak with someone who knows the culture, that is the best way to understand the culture from THEIR perspective, not yours. And that will make all the difference in your experience, I promise.
What is the most important thing you learned abroad?
To let go and just be there. I wanted to break through my language barrier of too much mental translation and learn to use the language as it was meant to be used. By the end of week 1, I was succeeding!
There was no English being spoken around me - my hostess spoke only Spanish and knew a few words in French; the other EF student, Helen, staying at the apartment spoke French, Italian and classical Latin and Greek. And yet we had lively conversations about travel, culture, politics, love and more !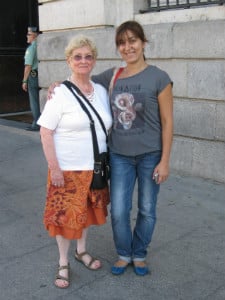 What do you tell your friends who are thinking about going abroad?
I highly encourage them to go at least once in their lives. We are too ensconced in our language and culture. Truly traveling (not on a group tour either), involves growing yourself in a dazzling manner. It changed my life and the lives of my children by venturing abroad.
Since my first 2 trips abroad, I accompanied three friends each on their first trips abroad in separate trips to Europe, acting as a guide to freestyle travel. Do that for a living would actually be my dream job.
What was the hardest part about going abroad?
Ha! Nothing! Well,except for making sure my pets were cared for in my absence. Really, that is about it.
What's your favorite story to tell about your time abroad?
There are so many....but I'll share one from my time in Madrid at EF's language school. My apartment colleague, the afore-mentioned Helen, was an 81 year old retired neurologist from France. Every day we would walk to the La Latina train station and take the train across the city to the school.
Our instructor, who had the most wonderful dry sense of humor, asked us (in Spanish of course), what we had done on our previous vacations. Helen answered "climbed a mountain". The instructor looked surprised and said "but isn't that dangerous?".
To which Helen answered: "Better to die on a mountain than on a sofa!!"And that remark truly says it all.
What made this experience unique and special?
No amount of study of a language will prepare the student to use it without true immersion and the loss of use of one's mother tongue. My goal in studying abroad was to reach this point - where languages studied (in my case Spanish, French & Italian) - become communication tool boxes in my mind - readily accessible for use without translation required. I achieved it and it has opened my ability to learn languages to a new level. Pretty thrilling!
Tell us about an experience you had that you could not have had at home.
There was a night in Seville Spain that changed my life. My travel companion had returned to the US and I flew to Andalusia for a pre-booked horseback ride on the beach at sunset in Donana National Park. I arrived shortly before the appointed time to find that the trail ride had already left as the sun was setting earlier.
I managed to explain to the stable master that this was the only night I could do the trail ride. He called the guide and as a result, I had my own trail ride to the beach bluffs - twilight colors dancing on the Atlantic, scrub pine for acres, and a rising full moon. To top it all, when I returned to the city - about 11:30 pm - and parked in the central underground parking area, I began to walk assertively with my US-city attitude toward the narrow streets where my hotel was located.
What I saw were open taverns and tapas bars,with tables of people eating and drinking and socializing together - savoring the end of the day. I enjoyed watching a community enjoy life together. And decided that I needed to find a way to encourage friends at home to come out and do the same more. We have a lot to learn, or perhaps re-learn, here about community.
What is one piece of advice you'd give to someone going on your program?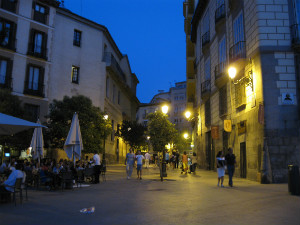 Definitely opt to stay with a host family or host/ hostess. There is too much temptation to speak English in the dorms (almost every student I met could speak English, regardless of their nationality). Don't hesitate to venture beyond your comfort zone in this regard - you will be glad you did. You will get the full benefit of language immersion and make new friends across cultures as well!
What made this trip meaningful to you, or how did this trip change your perceptions or future path?
My own explorations across Madrid (I walked much of the city) led me to places and sights that even my Madrid hostess had not seen. It was during this trip (which included a week in Malaga with my significant other who had never been abroad) that I realized how much I enjoyed exploring and sharing the personal side of travel. The idea of sharing freestyle travel on a concierge or personal guide basis has me thinking in a new direction.
What is the ultimate travel tip you would offer to those venturing into a new culture?
BAGG -- Be A Good Guest. This is what I taught my children and both found it invaluable. Ignore western cultural stereotypes; ignore the politics. If you are a good guest, you will find gracious hosts no matter where your travels take you.