Learn Spanish in Spain with EF
View Other Details

Program Details

Language Level

BeginnerIntermediateAdvanced

Certifications

DELE (Spanish)

Class Size

Private Lessons

Medium Class (8-15)

Housing

Apartment

Host Family

Hotel

Pricing

Price Details

Host family accommodations and a meal plan are included in the course price. Contact the Admissions Team for a personalized price quote.

What's Included

Accommodation

Some Activities

Airport Transfers

Classes

Some Meals

Visa

Wifi

What's Not Included

Some Activities

Airfare

Some Meals

Transportation

Travel Insurance
53 travelers are looking at this program
Learn Spanish with EF in some of the world's greatest cities. With campuses in Malaga and Barcelona, you'll not only learn the language, but also live it.
At EF, you decide when you want to study, how long you'll stay, and what you'd like to focus on. You can personalize your course with Special Interest Classes like Spanish Culture, Current Affairs & Debate, Spanish Culture, Business Spanish, Interpreting, and Exam Preparation (DELE). Earn transferable college credit for any course 4 weeks or longer, allowing you to make the most of your time abroad.
EF's Spanish schools are accredited by Instituto Cervantes, the world's leading organization promoting Spanish language education and recognized by the University of Montana, our partner in education.
Program Highlights
Study from 2 weeks up to a full year, start any Monday.
Choose between our amazing locations in Barcelona and Malaga
Top activities include Bachata classes, bike tours of the city, surfing in Tarifia, and weekend excursions to Montserrat and Morocco.
Choose to reside with a local host family or in the EF Residence, an international dorm.
EF students hail from over 100 countries around the world.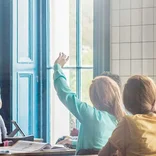 Make maximum progress during your stay abroad. Highly recommended for students who need to learn a language as quickly as possible for academic or professional reasons.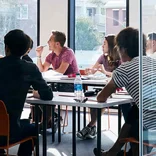 This carefully composed course of 26 weekly lessons (total tuition time of 17 hours and 20 minutes), held in the morning and afternoon, is designed to help you move up one course level every six weeks.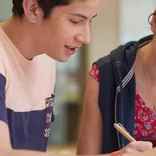 Combine plenty of free time abroad with 20 morning and afternoon language lessons a week (total tuition time of 13 hours and 20 minutes) – combining General Language Lessons, Project Sessions and Lecture Sessions.