Why did you choose this program?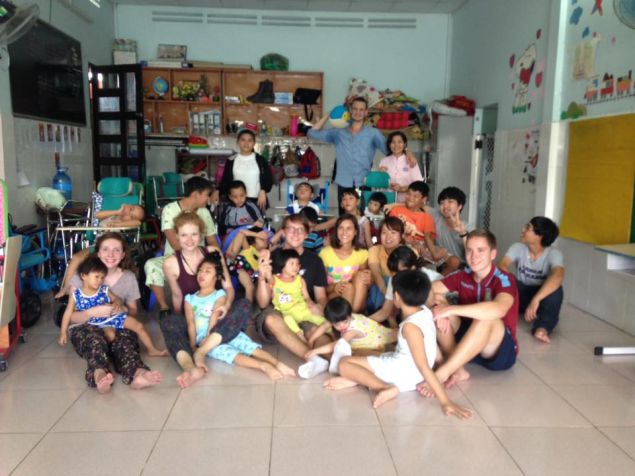 The main reason I chose this program was the cost. I wanted to go to Southeast Asia and after browsing the programs that IVHQ offers in this area, I found that this program in Ho Chi Minh City, Vietnam, that was extremely good value for money, as well as offering specific placements that were of interest to me.
The special needs placement was an obvious choice to me as I have previous experience volunteering with people with disabilities. Other volunteers had no problems changing between the placements if they wanted to sample one of the others on offer (teaching English in a university or an orphanage, or feeding the homeless).
Personally, I enjoyed the special needs placements so much that I stuck with it for the whole eight weeks that I was there.
What did your program provider assist you with, and what did you have to organize on your own?
The assistance which IVHQ provided prior to my trip was extremely helpful. Booking flights and sorting my own insurance were tasks which I had to complete on my own but IVHQ partners with a company that could help with this if I wanted.
Apart from these two tasks, IVHQ looked after everything else. Accommodation, three daily meals and activities during orientation week were all included in my program fee. IVHQ also issued me with an information booklet specific to my program which answered all my questions and helped me to prepare for my trip. There was someone on hand to answer emails concerning to any aspect of the trip as well, and this was very reassuring to know.
When I got to Ho Chi Minh, my placement coordinator relayed information to me and answered any questions I could think of, either relating to the placement or to Vietnam.
What is one piece of advice you'd give to someone going on your program?
I was initially hesitant about volunteering somewhere (Vietnam) so far from home (Ireland) and many people I spoke to before going shared my concerns and only added to my worries by asking things such as: "are you sure it's safe?" and "won't it be dangerous being a solo female traveller over there?".
I'm so glad I went ahead with it because I had the most incredible experience and cherish all the memories I made during my time volunteering there, as well as all the friends I made from all over the world.
What does an average day/week look like as a participant of this program?
The first week of the program is dedicated to orientation. It is a gentle introduction to Vietnamese history, culture, and language. It also gives the new volunteers a chance to get to know each other as well as the city they're in.
Once the placement begins, participants follow a set routine. We have breakfast at our accommodation before leaving at 8:30am, and then walk to the daycare center which takes about 20 minutes. The children are at the day care center when we arrive, and each day their faces would light up as they welcomed us in and sat us down beside them to play.
Lunch is delivered for the children and the volunteers help to spoon feed any of the children that aren't capable of feeding themselves. At 11:30am, the volunteers leave the center and head back to our accommodation for our own lunch. At 1:30pm, we return to the center.
After lunch, there is a different activity everyday. Every Friday, the volunteers decide on the activities that will take place for the following week. These activities range from drawing to dancing, to water fights, and both the children and volunteers loved to get involved in these activities.
At 3:30pm, the volunteers in the day care center finish up for the day. In the evenings, the volunteers would have dinner together in the accommodation and afterwards would often go to one of the pubs or nightclubs in the city or go to the night market.
Going into your experience abroad, what was your biggest fear, and how did you overcome it and/or how did your views on the issue change?
My biggest fear going into my placement was the worry that I would not be capable of working with the disabled children because I would not understand their needs or wants.
This fear completely disappeared on my first morning at the placement. Our coordinator took all the new volunteers aside and described each child individually and his/her disability along with his/her likes and dislikes.
I was also completely amazed by some of the children's understanding of basic English which came from working with so many foreign volunteers. Even those children who could not understand English had good communication skills and were very capable of communicating what they wanted. Nurses were on hand at all times if there were any issues or questions.