Why did you decide to volunteer abroad with GVI in South Africa?
Emily: I was coming to the end of my Speech and Language Therapy at University and felt that I wanted to celebrate the end of my studies by doing something that I would remember for the rest of my life. I had always wanted to travel but felt that I wanted to do something more meaningful than just sight-see so I decided to combine the two and decided to do some volunteer work abroad.
Then I researched lots of different companies and packages and settled on GVI as the company had great feedback from previous volunteers, it was a non-profit organisation so I knew that with GVI all of my money would be going back into the projects, and the description of the project I settled on was just what I was looking for.
Describe your day to day activities as a volunteer.
Emily: I volunteered in the children's orphanage for all of my 4 weeks and worked specifically with the babies and children with special needs (the best group if you ask me, but I am biased!) With the babies my role involved feeding them, providing them with the love and attention that they need and helping them to achieve their developmental milestones such as crawling, and walking.
My role with the special needs children was very varied. I helped to feed the children who couldn't do it themselves, I carried out massage therapy on two of the boys with cerebral palsy to loosen and relax their muscles. I carried out some physiotherapy activities with one boy who was learning to walk with a walking frame, and I also put into place a symbol communication system for one of the boys who had no verbal communication. Each afternoon I spent special 1:1 time with the other children reading books, colouring and playing.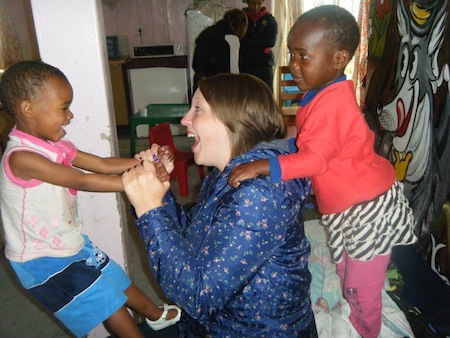 What made this volunteer abroad experience unique and special?
Emily: Most importantly the children made this experience so special. Those children's smiles and different personalities will stay with me forever. The other volunteers I met whilst I was there also made my experience that much better as we were all so close and I made some great life-long friends. It's amazing how close you become having shared an experience like we did.
How has this experience impacted your future?
Emily: This experience changed me in so many ways. It changes your total outlook on life and you become so thankful for the life you live and you become more understanding of the struggles that other people have to face every day. It also fueled my desire to learn more about different cultures and see more of the word. I'm currently looking into booking my next project with GVI.