Why did you decide to volunteer with GVI in Fiji?
Andrea: For as long as I can remember, I've had this pull at my heart to help others in need. I've also wanted to volunteer abroad but always found some excuse not to. Sitting in class one day I thought to myself, "If not now, when?" and that night I went home to research volunteer programs.
I'm studying Child Development and Early Education at university, so I figured a child care/education program would be perfect. After comparing a few organizations, I quickly decided that GVI would be the best fit for me. There were a ton of different projects to choose from and the coordinators/staff were SO helpful with answering all of my questions. I originally signed up for the Romanian Orphanage program with GVI but, because of some logistical changes, they had to stop taking new volunteers. So, I was presented with a few other choices and travel dates and ultimately decided on Fiji.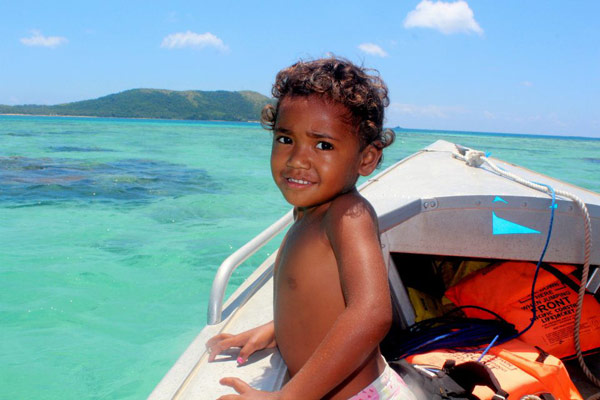 Describe your day to day activities as a volunteer.
Andrea: A typical day would be to wake up around 6:45am and eat breakfast around 7am (depending on whether or not you are on the cooking team for that day. If that were the case, you'd wake up around 6-6:30am to make breakfast for everyone). Around 7:30, as we're finishing up breakfast, we'll have a quick group meeting about the day's schedule. After that, we have approximately an hour to shower (if there was running water at the moment) and get ready for our projects and around 8:15am we would board the boats to go to school or the construction sites. The divers/marine research group had a different schedule than us, so they left a little later to go on their dives. We had about a 25 minute boat ride to school (weather permitting). If it was storming or the waters were too rough we would be delayed, naturally. Once we got to school we would report to our classes and proceed to work and teach as usual. There was a 15 minute recess around 10:30am and then lunch was at 12:00 for an hour. School was dismissed at 3pm. We then would board the boats and make it back to base around 3:30. After that, the rest of the day was ours to relax, do lesson plans or go for a swim. If you were on cooking duty that day, you'd start to make dinner around 6pm and we all would sit down and eat together around 7pm.
What made this volunteer abroad experience unique and special?
Andrea: This was my first experience volunteering abroad, so that in itself made it special. I can't put into words all of the wonderful things I took from this trip. I met so many amazing people and made lifelong friends that I will never forget. More than anything, though, this experience has given me a sense of perspective that one can only gain by experiencing these things firsthand. It made me realize how much I took for granted (running water, a clean place to live, schooling, etc). The only way anyone can really understand is to go and experience it!!
How has this experience helped you grow personally and professionally?
Andrea: This has impacted my future in many ways. I'm already looking into more projects to volunteer on in the future! It just solidified the passion I have to help others and it has also made me think about new career paths for myself, like maybe getting involved in an organization like GVI (or a foundation similar to it) permanently. Also, as I stated previously, the perspective I gained through this experience has impacted me personally in ways that I didn't even know I could be impacted in. It was the best decision I've ever made.