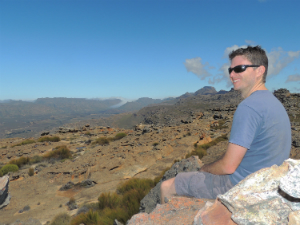 What is your favorite travel memory?
First time I snorkeled with a humpback whale. We'd kitted up a team of divers and I was leading a buddy check for 5 expectant divers, sitting on the edge of our. It was at this point I stumbled through my words and "air in... air out..." became "what the hell was that!" Something had caught my eye about 100m off to the right along the reef crest disappearing into the water. I had no idea and thoughts of a pirogue sinking or the world's largest turtle went through my head. A few moments later the tail appeared! We de-kitted, quietly slipped over the side and waited with masks and snorkels. Five minutes later over 40ft of whale appeared right underneath us, close enough to touch, its head tilted to the side as it stared up at us. What struck me most was the incredible intelligence in that "knowing" look.
Which destination is most underrated? Conversely, which is most overrated?
Madagascar is an underrated gem. I loved the year and a half I spent there over three trips. It has everything. The people were incredibly friendly everywhere I went and it has stunning scenery, great food and unique flora and fauna. I've been lucky enough to work with the people out there as well as lemurs, trees, reefs, tortoises, turtles, mangroves, whales and sharks. By traveling up and down the country I had the good fortune to see various parks from the rainforests of Zahamena and Ranomafana to the sandstone massifs of Isalo, the reefs off Anakao and Beheloka and the surrounding spiny forest.
What unique qualities does your company possess?
At GVI we have an awesome company culture. We are lucky enough to have a team of field and office staff around the world who are incredibly passionate about everything we do. All of whom have chosen to be with GVI because they believe in what we are doing.
By staffing and running all our programs on the ground, we offer unique opportunities to our staff, volunteers, interns and learners. We work as a resource for our local partners with the quality and long-term impact of what we shining through. This in turn has led to partnerships with the likes of Save the Children (Mexico), PADI and The Red Cross (Fiji), Universities such as Duke and Stanford through DukeEngage and the ACE Program and schools across North America for service-learning programs.
Describe a time when you felt especially proud to be part of your current team
Winning each of our externally verified awards has been hugely rewarding. We have been recognized as a leader in our field by the likes of Responsible Travel, Virgin Holidays, Diver's Alert Network, Thailand Tourism Board, Wanderlust and WYSE Work and Volunteer Abroad. Our staff have been repeatedly recognized as experts being asked to consult on a huge range of projects, from international aid programs, government policies and national parks management to best practice documents with the likes of The International Ecotourism Society and WYSE Work and Volunteer Abroad. Finally, its been great to see our influence and engagement grow past 25,000 Alumni and now well over 225,000 Facebook fans.
What is the best story you've heard from a return student?
From my years in the field I have seen alumni go on to do so many amazing things. From captaining super yachts to teaching royal families to dive, running conservation programs to becoming the world's spider tortoise expert. Most recently at GVI, we have been working with schools and universities for service-learning programs and have seen so many students inspired by their projects to go home and continue impacting their world. Some have fundraised through our Charitable Trust, some started projects back home, others have returned again and again.
Finally I'd be remiss if I didn't mention an few of my friends who met their future spouses!