Why did you decide to volunteer abroad with GVI in South Africa?
Kate: When I decided that I wanted to volunteer with children in South Africa I literally googled it and researched at least 5 or 6 different volunteering companies. GVI was the most professional, friendly and the most organized. They make the application process so easy from start to finish and I'd recommend GVI to anyone thinking about volunteering abroad.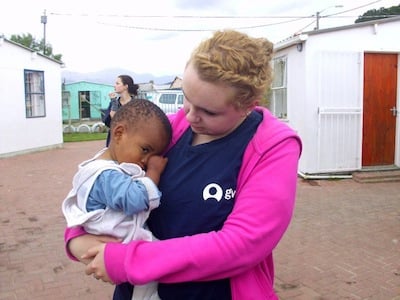 Describe your day to day activities as a volunteer.
Kate: All the volunteers would leave the accommodation at 8:30 by a private bus. When we get on project we set up for classes. Later the children would arrive. The main goal of working with the children was to improve their level of English through arts and crafts, storytelling, outdoor activities, music, games etc. During this time we helped with feeding and nap time. The morning sessions are based on academic group class work while the afternoon is one on one time.
What made this volunteer abroad experience unique and special? What advice do you have for future volunteers?
Kate: Obviously the main focus of volunteering with children is their welfare and education. However, what made volunteering with GVI in South Africa unique and special were the lifelong friends I made. All the volunteers are there for the same reason and you all develop a special bond that not many people have the opportunity to experience. If you volunteer with GVI your not just there as a volunteer, you become part of a very special family unit.
The advice I'd give to future volunteers is not to be nervous, especially if you have decided to do it alone. I understand it's easier said than done, but there is no reason to be worried. Every single question you have, no matter how big or small, can be answered by GVI or by past volunteers over Facebook or Twitter. When you eventually arrive to a GVI project (after months of waiting!) all your nervousness and worries will quickly be replaced by excitement and enthusiasm.
How has this experience impacted your future?
Kate: Volunteering in South Africa has had a huge impact on me. Within four months of returning from SA I had organized to return the following summer for 3 months. Experiencing the life, culture and challenges that the people in disadvantaged towns in South Africa go through day-to-day will stay with me forever. From the advertisements they see on TV and in magazines and newspapers, people think they know what volunteering in a place like SA is all about, but unless you have been there and seen what volunteers have seen you will never be able to understand.