Why did you decide to study abroad with ISA in Rome?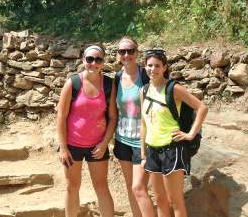 Candice: The reason I chose Rome, Italy with ISA was quite simple. My home university helped me determine what country I wanted to visit and then set me up with amazing people who could help make the experience one that I'd remember for a lifetime.
I originally wanted to study abroad in Australia, but looked for more of a challenge. I sought after an encounter that would help me explore history (from my own ancestry, religion, and of the many other marvelous historical markers Italy has played in our lives). I also fell in love with the Italian language and cuisine.
Pastas, pastries, and pizzas are wonderful in America, but nothing compared to what you'll find in Italy. Not only did I learn the language, cook and enjoy their cuisine, and meet new incredible people… I also found a little more about myself. I found a treasure and experience that I will build upon and remember for the rest of my life.
The ISA staff was absolutely incredible. With countless years under their belt, they know how to work with students of all nationalities and make them feel comforted and welcomed. They were our planners, our new home advisors, our counselors, coordinators, and our friends. If you have a question or would just like to speak with them in either language, they'll be more than happy to assist you. I loved the ISA staff in Rome and still try to keep in contact with them today.
What do you think made this experience unique and special?
Candice: This is question I don't know how to answer in one or two paragraphs, because so many memories, people, and experiences contributed to an unforgettable experience overall. The biggest highlight of my trip was when my boyfriend came to visit me during my Fall Break. As we traveled around Italy, he proposed to me in one of the world's most beautiful gardens in Tivoli, Italy!!! Not only was the moment special, but the whole entire ambiance around us was romantic and breathtaking. Everything about Italy, the people, the food, the wine, the culture, and language…Priceless. Italy is a must to visit!
I met many wonderful people during my experience that I now have as very close friends. Even though I traveled around Italy and Europe alone for most of the time, I had countless opportunities to socialize with friends. My roommates became my closest pals and a few of the natives also have a place in my heart. Take for instance a time when, I took a few cooking classes with a phenomenal chef and gained a wonderful friendship and working relationship with him. To this day we still talk and hope to meet up again. Meeting friends like this is worth breath you breathe.
The other best part of Italy was the language. I never took a language class in school and was unprepared for the language barrier that awaited. Before I left, I learned some basic words and sentence structures from Livemocha.com (awesome website I definitely recommend to anyone learning a new language).
As soon as I stepped off of my flight, I was greeted with beautiful sound of the romantic language. The rest of the trip, I tried my best to speak with the natives and learn their language. Even though I was terrible, they loved that I tried and helped me in every way possible. Most of them knew English, but chose to speak Italian to help me learn.
Everyone was patient and kind and super easy to talk to. Give the language a try… you may not be fluent, but I can guarantee you'll love the experience.
How did this experience impact your academic development?
Candice: This experience has allowed me to take chances, embrace challenges, actively meet new people, explore different cultures and ways of living, and to learn more about myself.
I was able to find something inside myself that I never knew existed… the need for adventure and exploration. While discovering a new country and all of the incredible attributes that come with it, I found a person who has become more open-minded; someone who is able to explore the world on her own or with new acquaintances; and a person who is not afraid to live life with a shining heart and smiling face. This person I found was me!
I learned so much about myself that I can't even put into words. I hope that you will also take this opportunity and find the YOU who has been yearning to get out.