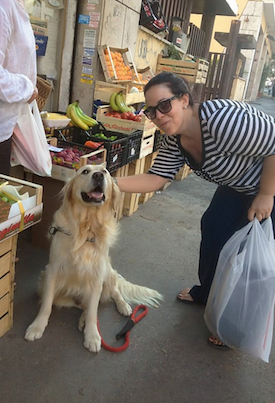 What was the highlight of your time studying abroad?
Jennifer: The highlight of my trip was the various excursions we went on with ISA. It gave us an opportunity to really explore Italy and see what existed outside the walls of Rome. I must say, and call me a geek for this, I really enjoyed our Art History class. I didn't realize until I came back to the states how much I gained from that course. I brought a lot of interesting information home with me. Another highlight was the people I met. I met people from all walks of life, ages, etc. I formed friendships with that will last a life time. I feel privileged to have had the opportunity to engage in activities with these people. This was by far the most amazing experience I have ever had in my life. Looking back, I have nothing bad at all to say about the program.
What was your typical morning like?
Jennifer: A typical morning as a student with ISA in Rome went as follows: I would wake up at the crack of dawn because I had 8:30 class with Carol Taddeo – Art History. I would give myself extra time because as opposed to meeting on campus, we would meet at various locations throughout the city to explore the famous art of ancient Rome. I strategically scheduled my classes so that I would be finished no later than 3:30 p.m. daily. For the morning, we would venture off to sites like the Forum, Colosseum, and the Vatican (to name a few) to explore the art left behind by Bernini and Caravaggio. I had a small break from 10:30 to about 12 p.m. At 12 p.m. I would venture off back to campus for my culture class, which would take place on campus about 90% of the time.
What was your typical afternoon like?
Jennifer: A typical afternoon, Monday-Thursday, was sitting in culture class. That class ended around 3:30 and depending on what was planned for the day, I would hang around campus for a bit to get some work done. Then I would typically hang out with some friends for a couple of hours before heading home to wrap up any assignments that required my attention.
What was your typical evening like?
Jennifer: Evenings varied depending on the day. As an older student who takes academics quite seriously, I made sure I didn't stay out crazy late during the academic week. The most I would do is grab dinner in Trastevere with friends. However, the weekends are another story...most of the weekends were booked with AMAZING excursions through ISA including Capri, Sorrento, Florence, Chianti, etc. However, on the two off weekends, I spent one in Anzio with friends and the other, which was the last weekend, with friends shopping, dining, drinking, etc.