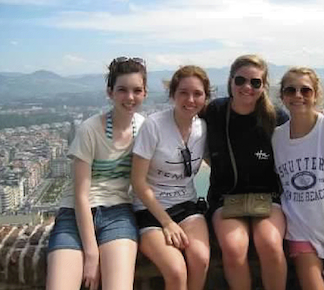 Why did you decide to study abroad with SPI?
Harper: That decision was based on my mom, but also representatives from SPI came in to our school to talk to us about the program.
What made this study abroad experience unique and special?
Harper: This program has completely changed my life; my parents have even noticed the difference it has made on me. I have grown into a new person and I can only thank SPI for that. I've learned so many life lessons about responsibility that you can't really learn from a parent; I learned from experience. I loved the freedom that came along with this trip; I really learned first hand what it's going to be like one day when I don't have my parents there to help me.
I made so many friends that I still keep in touch with today. We have all learned so much about each other and to form very special relationships. We learned how to rely on each other to get around town by ourselves, and for my roommate and I, we heavily relied on our friends to help us get around.
When I left for Spain, I thought I was as fluent as I could get, but I was so wrong and have never been so wrong in my life. I learned so much more than you could ever learn from years of sitting in a classroom. I completely recommend this program and hope the best to anyone who is thinking about traveling abroad. It was the best decision of my life, and I cannot wait to study abroad once again in France this summer with some of my classmates.