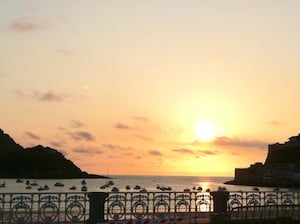 Why did you decide to study abroad with SPI?
Janessa: I decided to study abroad with SPI for a variety of reasons. Of the 4 or 5 different organizations I looked into, SPI appeared to be the most structured and seemed to have the most to offer.
What made this study abroad experience unique and special?
Janessa: My study abroad with SPI remains to be one of the best experiences I have had. I enjoyed the challenging academic side as well as the fun, exploring the city and culture outside of the classroom. I enjoyed having activities like surfing or tapas bar hopping set apart from the typical classroom setting and even more, I enjoyed the staff that accompanied the group. They were incredibly helpful and supportive and were always available and this aspect of the program really stuck out to me. One of my absolute favorite aspects of the program, though, was the host family experience. My host mom was awesome and over a year later we have still kept in touch! I am incredibly grateful for such an experience and I appreciate the personal approach SPI takes with people. Celeste Weary did an outstanding job overseeing/organizing/interacting with my session.
How has this experience impacted your future?
Janessa: My experience with SPI has had a rather large impact on me. After my study abroad, I felt extremely comfortable traveling and exploring foreign cultures and getting out of my comfort zone. It fostered a deep sense of appreciation for other cultures and as a result of this, I opted to take a gap year after graduating high school to volunteer in Africa for 5 months. Before my study abroad, I don't think I ever would have had the confidence or desire to do such a thing.
My understanding and ability to speak Spanish increase ten-fold and I found quite a passion for the Spanish language and culture and will be studying both further in university.