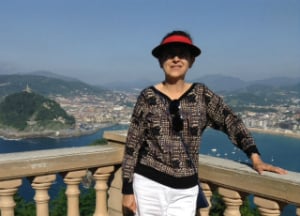 What is your favorite travel memory?
I was looking for study abroad opportunities for my Spanish high school students, when I saw the programs available in Santander and San Sebastian on the web. I immediately knew that I found what I was looking for. I had a great time talking to the students in Spanish, taking pictures, and posting them on the SPI site.
Which destination is most underrated? Conversely, which is most overrated?
Santander and San Sebastian are two of the most beautiful cities in Spain. Made famous by the royal families in the 18th and 19th centuries. Both are close to Medieval towns, amazing castles, and magnificent beaches where surfing is practiced the entire year. San Sebastian is famous for the movie festival but Santander is also an amazing place!
What do you believe to be the biggest factor in being a successful company?
Students attend language classes with teachers that use the natural approach to learn Spanish. Classes have many interactive activities and role plays that are relevant, fun and essential to master the language. In the afternoons, SPI tutors take the students to different enriching activities such as surfing, sailing, cooking, and hiking. In addition, they also attend dance lessons, and art classes in Spanish, all of which reinforces their speaking abilities.
How have you changed/grown since working for your current company?
It is rewarding seeing the students participating in a life-changing study abroad program. Students grow in self-confidence and are more appreciative of their own parents. They also come aware of things that they took for granted while living at home. As an SPI on site assistant director and Spanish tutor, I get to constantly use Spanish with them when we tour sites, when we play games, or when we travel by bus to different villages and towns. It is a joy to be part of SPI.
Describe a time when you felt especially proud to be part of your current team.
Seeing the students interacting with others in Spanish and telling me that they have enjoyed so much the experience to study abroad. I also enjoyed the times that I heard the students telling their parents that the trip was one of the best things they ever did. I have to admit that all the students were polite, behaved well, and followed the rules. Amazing!!!