Why did you decide to intern abroad with Global Experiences in London?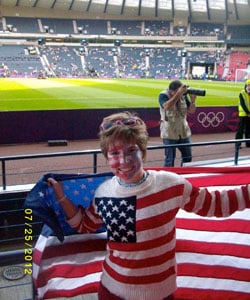 Ligon: I decided to intern abroad the summer before I left for London because I love to travel and I wanted to get the experience of being in another country. I also wanted to have the chance to learn my way around to get to the different places I needed to be at. Working overseas was a completely new experience. I went to an Art Institute and it was different from a regular university or college. It was difficult to go because of the quarter system. But I managed to figure it out.
What made this internship experience so unique and special?
Ligon: What made this internship experience unique and special to me was that the Olympics were held and that I was able to travel an hour and a half just to get work and see the country by train. Having being the chance to be a part of project Moda Season 2 was great fun and going to Italy for only four days was awesome.
How has this experience impacted your future?
Ligon: I was able to bring knowledge back to the United States for my friends and family. My new friends and I were able to go inside the Tower of London and Buckingham Palace to take of tour and learn more of the history of those places. I was able to climb up the Leaning Tower of Pisa on what I thought about was the hottest day of the year.
What is one piece of advice you would give someone considering interning abroad in London?
Ligon: If you were interning abroad the one piece of information I would give is go with an open mind and know that you are about to go on your own. Be prepared for anything. I lived in Notting Hill at the Nido Student building. If I got lost I would pick a point near there and try and figure out how much further I still have to go.