Highlights: As part of the Ministry's summer project, The Children's Republic of Shoreditch, we had a week during which we had the children take over our social media outlets. Of course, we couldn't have a bunch of primary school children actually run our social media, so I got to run it along with the Ministry's public relations/marketing rep, Martin. This was the best work experience for two reasons: it was hugely important to what the Ministry was doing and it allowed me to learn how to run a social media campaign. By giving me an assignment that was so central to what the Ministry was doing, I felt that they were able to count on me and they trusted my work, and so I was motivated to create an excellent product and I had the confidence to accomplish it. Also, orchestrating an eight day long campaign is drastically different than the day to day social networking that so many of us do. There has to be continuity, you have to have everything ready to go as well as several possible alternates, and you have to make sure that what you are trying to get across is being successful.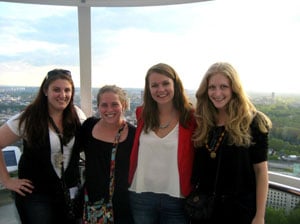 As far as my free time in London, the highlight of my trip was visiting Westminster Abbey. It was a beautiful and awe-inspiring experience. Knowing that you are among the leaders that you've spent so much of your life learning about is humbling. And then, because I am a proud lit nerd, Poets Corner was hands down the most meaningful experience of my life. I was able to stand there and see the graves of William Shakespeare, Thomas Hardy and Charles Dickens, among many others. And in addition to all of that, the building itself is beautiful. Another great thing about London is how easy it is to travel to other places. My weekend in Madrid was absolutely wonderful, and it was so easy to get there. I was able to have two full days instead of constantly worrying about my travel plans.
Morning: My mornings in London were pretty relaxed. I would wake up some time between 8:15 and 8:30 and get around. There was a café in the building where I lived that served excellent coffee, so I would grab a latte, a piece of fruit and some kind of pastry on my way out. I'd then walk to the Angel Islington bus stop and take the 394 bus to Crondall Street/Hoxton Street Market, and The Ministry of Stories, my internship placement, was right around the corner. Once I was there, we would all have a cup of tea and leisurely check emails before really getting the day started.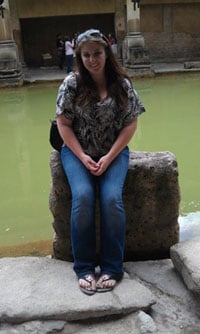 Afternoon: I took lunch at about 12:30, and there were a lot of little restaurants around where I worked. My favorite was a place called Olive that has the best chicken pesto panini I've ever had. At work, I ran social networking and their website, so I'd usually be drafting pieces or blasts for the next day. I also did a lot of small chores for full time employees, when they would get overloaded, and I usually took care of those things in the afternoon as well. There was a small store that was a part of the Ministry, and I worked four or five shifts there throughout the summer as well. We would, of course, all have a cup of tea in the mid/late afternoon, and I would go home sometime between 4:30 and 6:30, depending on what all needed to be done that day.
Evening: Evenings were great because that was the time I had to keep up with family and friends at home, as well as get to know the people who were with me in London. When I got home, I'd make something for dinner or we'd go out. There are some really good ethnic restaurants in Islington, so we tried to try as many as possible. After that, we would go back to our rooms for a bit. I would Skype my parents and Facebook chat with my friends. Most nights around 9 o'clock, we would go out to one of the bars or pubs down the street. By the end of my eight weeks in London, most of the bartenders and bouncers at B@1 Calledonian Road and Camino King's Cross knew us by name. During the week, we'd be back by about 11 so we could get up for work, but on the weekends we would be out until about 2 AM. There were also one or two nights a week where we would stay in and just hang out and watch a movie or have a really relaxed dinner.