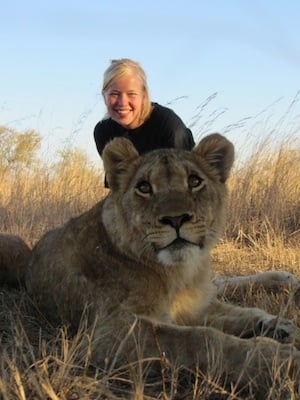 Why did you decide to volunteer with African Impact in Zimbabwe?
Helene: I had a gap year between high school and college that I wanted to fill with travel. I knew from early on that Africa would be my destination and I also knew that I wanted something more than a safari trip. So with a little bit of research I came over African Impact. Their site thoroughly informed of the different ways one could travel and make an impact in Africa. By looking at their options as a volunteer there was one program that stood out to me, Hands-On Lion Conservation at Antelope Park.
Describe your day to day activities as a volunteer.
Helene: We would get up early around 6 for a Lion Walk or Boma and Elefant herding (cleaning the elephants enclosure and walking them down to camp). Then we would have breakfast from 8-9 a.m., after that there was mostly an activity that consisted of heading up the the breeding program. Such activities could be enclosure cleaning, meat prep, maintenance, etc. Though this might not sound like fun, it was! After that we would return to lunch and activities would start again around 2. After lunch activities could be Cub Sit (entering the cubs enclosures and spending time with them), more maintenance, boundary patrol, fire breaks, behavioral enrichment. Then we would return for Camp and the last activity of the day which would often be a Lion walk, but could also be elephant herding.
There could also be a night encounter, where the lions that have graduated from lion walks would be taken out at night to hunt. Everyday was different and a new adventure waiting to happen.
What made this experience unique and special?
Helene: Many things made this experience unique and special, the place in itself, the people, but most of all being so close to the lions. Learning about their behavior and being a part of their rehabilitation and re-introduction to the wild because of their decreasing numbers. The fact that this experience was worth every moment and not a inkling of regret was what made this experience a once in a life time event and life changing.
How has this experience impacted your future?
Helene: I have become more aware of little things that I often before thought unimportant. I am more grateful for everything I have gotten to experience in my life and have a very optimistic view on the future. I have learned, thanks to the wonderful people at Antelope Park, to not complain if anything does not go as planned, but rather make a new plan. My experience there has impacted me to seek work within wildlife conservation.