Why did you decide to volunteer with African Impact in Zimbabwe?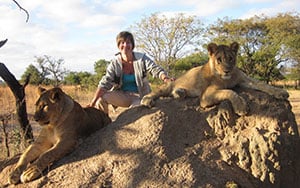 Margaret: I first came across African Impact's Lion project when I visited Victoria Falls and went on a lion walk at the site there. I really enjoyed how closely you got to interact with the lions and spoke to a number of the volunteers who were helping with the walk to find out about their experience. They all said it was a wonderful thing to do so I resolved to do it myself one day. My opportunity came 18 months later when I was offered voluntary redundancy so I just had to choose which of African Impact's three sites to go to. I chose Antelope Park because it was an area of Africa I hadn't visited before and also because of the opportunity to also work with elephants and to ride horses.
Describe your day to day activities as a volunteer.
Margaret: In this project you are hands on with the animals from the word go. You are taught all the essential behaviours you should exhibit when working with the lions and elephants and are in the care of friendly expert handlers at all times. Once you've completed all the inductions your day will be split into four sessions and activities are allocated on a rota basis and posted on the notice board the night before. The day starts early, leaving at 6.30am for either a lion walk or 'bomas' which is cleaning out the areas where elephants spend the night then walking them back to camp. The lion walk might be a client walk with paying visitors or a walk only with volunteers and handlers. These are very important sessions where the young lions get the opportunity to practice their hunting skills and, if you're lucky, you might see them make a kill.
Data is collected on each lion walk and everyone takes their turn at being the data collector. Sometimes, instead of the lion walk you can go with the researchers to the Stage 2 release site where a pride of lions is living with minimal human interaction. The pride, led by the magnificent Milo, is successfully hunting and breeding and getting the project a step closer to its ultimate aim of boosting the numbers of lions living wild in Africa.
Then it's back for a fantastic cooked breakfast and time to gather the appropriate kit for your main activity of the morning. This can be anything from meat prep to enclosure maintenance, enclosure cleaning, filling up water troughs, horse food making, boundary patrol, checking for snares, cub sitting or a session called behavior enrichment where you make toys for the lions and see how they play. Some of the activities are quite physical so a reasonable level of fitness is beneficial though there are always people willing to help if there's something you can't manage to do. Having worked up an appetite it's back to camp for a cooked lunch and a bit of relaxation time before the afternoon activity. If you've had an energetic morning you'll usually find the afternoon is a more relaxing activity such as cub sitting. The day rounds off with either another lion walk or with walking the elephants back to their bomas.
There's then usually time to grab a shower before the daily volunteer meeting where there are updates on the day's activities and any issues can be raised and discussed. Then it's off for a three course dinner (the food at AP really is excellent!) often followed by drinks and chat round the fire pit. On Saturday you have the chance to go into the local town of Gweru for shopping followed by a visit to one of the two orphanages the project works closely with through its community programme. These visits are well worth doing as you'll meet some amazing children and staff and see how much we in the west take for granted. Saturday afternoon and all day Sunday is free time, a chance to relax by the pool or grab some internet time to catch up with friends and family. AP is in a beautiful setting by a river where you can also hire canoes if you're feeling energetic.
What made this experience unique and special?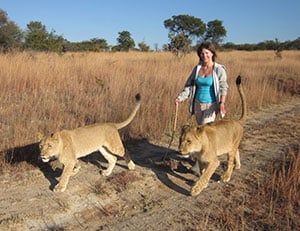 Margaret: There are a number of volunteer projects where you can work with big cats but this project is unique because it aims to overcome the problems other captive breeding projects have in re-introducing lions to the wild. The lions you work with in Stage 1 are given the opportunity to learn and fine tune their hunting skills on the twice daily lion walks and, when they're older, on night encounters. This gives them the skills they will need when they move into a pride in Stage 2 of the programme, skills they can pass onto their cubs who, when funding is in place, can move into a much bigger Stage 3 site where they will learn to compete with other hunters. Having such a hands on experience with lions, helping them develop their natural behaviors and seeing how well Stage 2 of the project is working made this a very special volunteering experience.
How has this experience impacted your future?
Margaret: This volunteer project attracts people from around the world and I met some lovely people who I still keep in touch with. I don't think anyone could visit Africa and fail to be touched by the amazing spirit of its people who are so cheerful, despite what we would consider to be great hardship, and so grateful for so little.