Highlights: I was lucky enough to not only be abroad, but also be gaining credits for one of my degrees. Starting at a new school was an interesting experience, but a very good one. My school was extremely accommodating for international students, and I would say every other night they had something going on through the Buddy System or the student groups. They also organized huge parties at local clubs and bars for the students. It sounds crazy- but it was a really wonderful experience to work my butt off in class, and then go celebrate my hard work with fellow students! Through those get togethers, I met so many new students, and conveniently, I would always have new friendly faces in class the next day!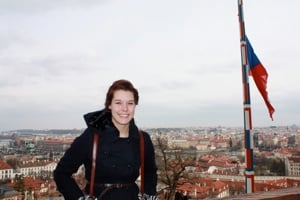 The overall experience of studying abroad was absolutely splendid. Being home now, it almost feels like it didn't happen because it was so surreal to me. Despite the fact that Prague is a beautiful city with an incredible history, I really don't think my experience would have been half as good without the people I met. The students I was abroad with, as well as the locals were some of the most inspiring people I have ever met. I learned so much because of them, and was lucky enough to have the opportunity to travel all over Europe with them. I will never forget the feeling of being blissfully happy, walking through the cobblestone streets with my friends. There is a very powerful spirit in Prague that comes straight from the people, and I am so grateful to have been surrounded by them for a few months of my life!
Morning: A typical morning in Prague would consist of waking up around nine am, making breakfast and doing homework. Most days, I would go for a walk along the river that was right by my apartment. Sometimes my room mate and I would try to squeeze some sightseeing in before class at noon, be it visiting a new park or exploring a new neighborhood in the city. We had a list of places to see and made it a goal of ours to check something off every day or so. That way, we were never looking for something to do! We always had something to discover about Prague. Mornings were best for exploring because the weather was best and the tourists weren't always out that early.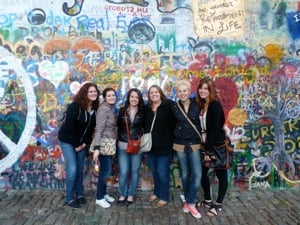 Afternoon: Afternoons were mostly filled with class for me. That being said, class was always fun! I had really good friends in class, and during breaks we would either get coffee from the vending machines or share our snacks. I personally made it a point to get a Kinder bueno every day (my favorite candy bar). If it was a day with light classes, then I would get off the tram a few stops early and walk home from there. That was probably one of my favorite things to do- just walk home from wherever I got off the tram. My room mate and I would sometimes get on a random tram just to see where we ended up and go exploring, or go to the park near our house to study or just relax.
Evening: Evenings were always busy with social events. Several times we made formal trips to the Opera or Ballet, but for the most part, we would just pick an apartment to start at and see where the night took us. We would pick a new pub, or restaurant to go to, or decide on one of Prague's many clubs to go dance at! If it was a low key night, we would hang out at our favorite restaurant (with awesome student discounts) just talking and eating delicious food. One of our friends joined a rec football team and we would go to his game or see what was happening at our school for the night. Always though, I was surrounded by friends from the end of class to the time I went to bed.