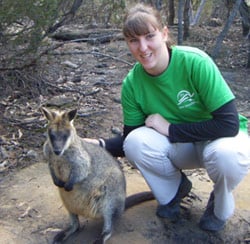 Morning: Up at 7 to get ready for an 8am start, we all get changed and have breakfast. At 8 Rodney, one of the park staff, would come and meet us outside our rooms and take us to the tool shed to sort out what we'd need for the morning. We'd pick up our tools for the day and follow him into the park to where our first job would be.
The most frequent morning work we did was on the perimeter fence area. To stop channels of rain causing erosion to the road around the fence line we'd bury some logs with gravel to create speed bumps which acted as water barriers. We'd then take a walk around the perimeter to check for any damage to the fence or any holes that animals could get in or out through.
Afternoon: We'd go back to our accommodation block for some lunch if we didn't make a pack lunch to take with us out in the park. There we'd eat around the outside table then play a bit of hackeysack while waiting for Rodney to come back for us and take us to the next job.
We'd be split into groups, with some people carrying on the perimeter work, or other odd jobs like clearing and painting frog ponds, and others going into the Python House to rearrange the interior to make it a bit more appealing and interesting for the snakes.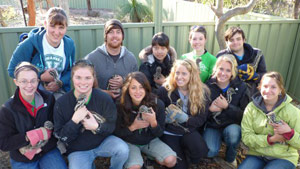 Evening: When we've finished our jobs for the day we'd all get together in the park and watch the keepers feeding the animals. All the kangaroos, wallabies and wallaroos would gather around us to eat and have a fuss. Then as the park closes we'd go back to our accommodation and cook dinner, talk and play some games for the rest of the evening before going to bed.
Highlights: The highlight of our volunteer project for me was building a pond for the dingoes. We got to enter the enclosure and dig up their old pond, before digging a new pond and mixing concrete, all the while with the dingoes running around us trying to play with our tools. It was amazing when we finally finished the pond to see them playing in it. Another highlight was getting to be so close to the animals, learning their names and growing really close to a select few of them who just loved having a fuss.