Describe your program socially and academically.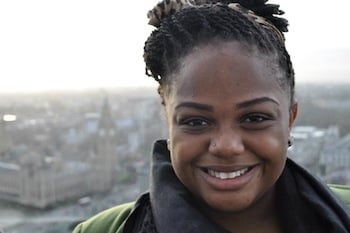 Teyonna: The AIFS London program was great socially and academically. Since my home university is an affiliate with Richmond, the American International University, it was easy to find classes to register for and to get credits to transfer. I took two electives and two psychology courses to fill my minor requirement.
The classes that I took were relatively easy. I took a beginners graphic design class that was challenging but one of the best classes that I've taken as an undergraduate student. While I like my academic experience at my home university better, I enjoyed the classes that I took at Richmond.
AIFS London organized many fun social events for students and Richmond invited study abroad students to programs that the degree students planned. During orientation week, we went on a bus tour of London, took a trip on the London Eye, watched a theater show and partied on a boat sailing on the River Thames. Throughout the year, AIFS planned movie nights, a Super Bowl watch party, British football tournaments, trivia nights and more activities. As expected, there was always a lot to do in London, but it was nice to have the option of going to fun social events planned by AIFS as well.
Tell us about any interesting cultural tidbits you noticed about your country.
Teyonna: London was such a diverse city, yet so rich in its own culture. One minute you could be in Piccadilly Circus, a touristy area of town and then the next you could be in East London where the hipsters roam.
There are many things that distinguish London from any other city, including high tea, the Royal family and the Tube, which is the oldest underground subway station in the world. London was different enough to know that you are in another country, but it was similar to America in some ways to make you feel at home. I noticed major differences in dining experiences. For one, Londoners rarely use ice and often serve beverages at room temperature.
Most restaurants don't have free refills either. In retail stores, customer service is not required so some sales associates may not help a customer until they ask for assistance. Another cultural tidbit that I noticed was that London is the city of dogs. It seems like everyone there had one, and nearly all of the dogs in West London had fancy coats and sweaters.
What is your most meaningful souvenir?
Teyonna: My love for camels began when I saw a picture of my friend who was studying abroad in Spain on a camel in Marrakech, Morocco. I immediately knew that I had to go to Morocco and ride a camel while I was studying abroad. I went to Morocco in April 2013 and finally was able to recreate that photo. After riding a camel, I saw camel figurines everywhere in the markets. I expressed my excitement to one of the merchants while I was purchasing an African drum for my mom but I didn't purchase any of the figurines.
As I was preparing to leave, the merchant gave me one of the camel figurines and wished me well for the remainder of my stay in Morocco. This was my most meaningful souvenir because it will always remind me of how nice Moroccans were and of my first experience riding a camel. It was also the first addition to my camel figurine collection, as my friends and family always purchase things with camels on it.
If you could do-over one thing, what would it be?
Teyonna: If I could redo one thing, I would make a greater effort to build relationships with local people. I met many British people while I was abroad, and added most of them on Facebook, but I didn't establish any long lasting relationships. I wish that I would have really gotten to know more British people to get a better understanding of the differences between people from England and people from America. It would also be great if I maintained a relationship with a friend in London so I would have someone to visit when I came back to visit.
Do you feel you got a chance to see the city from a local's perspective?
Teyonna: When I arrived in London, the area that our dorm was in mesmerized me. Kensington in West London is a very affluent area filled with boutique shops, expensive dogs and posh women draped in fur. I knew that all of London wasn't that upscale but I didn't realize how different some parts of East London was until I visited a neighborhood called Seven Kings with a guy that I met while I was abroad. I told him that I wanted to see what another part of London was like and I'm glad that I had a chance to see the city from a local's perspective.
There was graffiti on most of the buildings and smaller houses. The area as a whole was the opposite of what I was used to in Kensington. And after talking to my friend, I learned even more about what it's like to live in London. He worked various jobs, including being security at the 2012 Olympics, just to stay afloat. He was from Somalia and moved to England when he was a teenager to pave a better life for him and his family. Getting to know him and seeing where he lived put some things into perspective and made me thankful to live in such a great part of London.