What made this study abroad experience unique and special?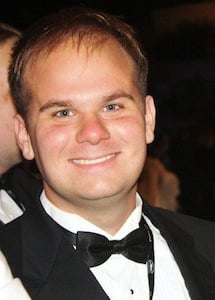 Clay: By far, the people I met on this trip made it special. I grew very close with a lot of other study abroad students on this trip. We formed lifelong friendships. Of course, I traveled to many new countries, saw many historical places, ate wonderful cuisine, and lived across the street from the Mediterranean Sea. The friends that I made on this trip made all of those experiences more vivid. We all recognized that we were living the good life and that we were incredibly lucky to be living in such a beautiful place with such amazing people.
By the end of the trip, we all agreed with the saying, "It's not about where you go. It's about who you go with." The last night in Cannes, we drank wine on the beach as the sun set and recounted our favorite stories from the semester. I can't think of a better way to have ended my trip than with the people who made it so special.
Tell us about an experience you had that you could not have had at home.
Clay: There are so many experiences that I could talk about in response to this question. I could talk about taking a riverboat cruise down the Seine in the light of a full moon. I could talk about interning at the Cannes Film Festival and brushing shoulders with celebrities at the festival's most prestigious fundraiser. I could talk about eating bona fide homemade pizza in Florence. Yet, one experience sticks out beyond all those experience.
After returning from a whirlwind, tour of four countries by planes, trains, and automobiles, I returned to France and was met with the relief that I could understand the language, even though French had been foreign to me before the trip. Arriving back at the college in Cannes, I opened up the window of my oceanview dorm room, listened to the Mediterranean waves crashing on the shore, and smelled the wonderful lilacs growing nearby. Experiencing these sensations, coupled with the comfortable relief of returning to newly intelligible French, made me feel at home in a foreign land.
What did AIFS in Cannes do for you and what did you need to do on your own?
Clay: The better question here would be: "What did AIFS not do for me?" The one thing that they were not so good at was understanding vegetarianism. Besides that, a USA representative helped me fill out the application to study abroad with AIFS. After I was accepted, they helped me fill out my visa application. While in Europe, they planned trips for the group on approximately two weekends per month. We took group trips to Monaco, Nice, Florence, Provence, and Paris, for example. All of these trips were planned by AIFS. Even though these trips were planned for us, we were still left with free time. I was able to plan my own adventures around Europe, and the AIFS staff helped me figure out logistics for those trips. I never had issues with grades and grade transfers, but AIFS helped those students who did have problems.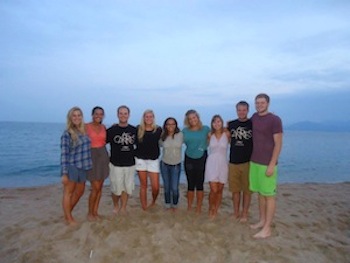 What was the best place you visited outside of your study abroad city?
Clay: I go back and forth between Paris and Lyon. AIFS took us to Paris for a group trip in March. They provided a tour of the city, a walking tour of Montmartre, a dinner cruise on the Seine, and tours of the Museé de l'Orangerie and the Eiffel tower. With my friends, we found a place to have a three-course meal for relatively cheap; I'll always remember that as the first time I tried escargot. We took a trip to Versailles, saw Napoleon's tomb, and walked through Notre Dame.
The cultural landmarks in the City of Lights did not disappoint. However, the lights in Lyon were so spectacular that the name "City of Lights" ought to be bestowed on that Rhone-Alps city. The old city is built on a peninsula at the connection of two rivers, allowing for some awesome architecture, all of which is lit at night. The lights, the amazing French onion soup and meat dishes (a specialty of the region) and museums like the museum of Hollywood artifacts (Indiana Jones's whip!) made Lyon one of the best places I visited.
What is one piece of advice you'd give future AIFS Cannes, France students?
Clay: I would suggest doing as much as possible. I made lifelong friends with other study abroad students on this program, but that was possible only because I created shared memories with them through travel. Some people on the trip stayed in their room the whole time and were reluctant to travel with others. I hardly remember the names of those people. The best thing you can do is keep an open mind and try new experiences. You should want to go abroad for the challenge of new discoveries, and you must have the courage to face those challenges. The trip will be immensely rewarding if you do that.