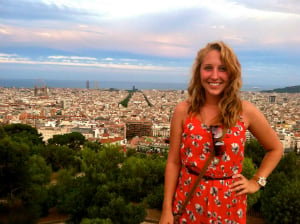 Did YOU intern abroad?! If so, where and what inspired you to go?
I had a marketing internship in Dublin, Ireland after my Junior year of college. In high school I experienced my first living abroad trip. It was a student exchange in Germany for two weeks when I was 15 and lived with a German family in Munich. It was one of the most challenging, yet life changing experience I decided to do. In college I knew I needed more travel in my life, I just wasn't sure how I was going to do it. I'd considered study abroad, but it wasn't very appealing to me being in a classroom with a bunch of other US students. In my research I came across Global Experiences and it instantly clicked as making the most sense for me to live and work abroad.
Why is language learning and cultural immersion important to you?
Having this knowledge and experience speaks volumes about the type of person you are and your abilities. Cultural immersion and learning new languages in turn makes you more adaptable, open-minded, kind, aware, accepting - all of which are admirable qualities in a person as an individual and as an employee. Also, by putting yourself outside of your comfort zone, questioning yourself and your beliefs and overcoming challenges helps shape a more confident, well-rounded individual.
What was your favorite traveling experience?
This is going to sound strange, but everything that didn't work out as planned are my favorite memories. On an adventure to Parc Güell my friends and I ended up getting lost and wandered upon a random field with a big hill/cliff. We decided to climb it and see what view would be at the top. When we reached the top we were welcomed by a panoramic view of Barcelona at sunset and at that moment that view was entirely ours in a great, unexpected kind of way. If we had never gotten lost that moment would never have happened.
Describe a time when you felt especially proud to be part of the Global Experiences team.
There are many times I feel proud to be a part of the Global Experiences team. It is each moment where I work with an individual and they reach the moment when they are officially on their way to one of our locations. Many of us know this feeling when you put the wheels in motion and you are on your way to something amazing. I know what they are about to experience and it is exciting to help people get there and reach something that previously was only a wish or a thought.