Why did you decide to intern abroad with Global Experiences in London?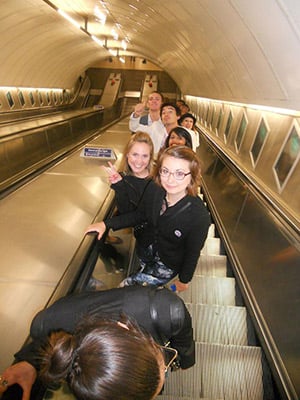 Austin: My university didn't offer the type of program I was looking for, so I searched online and came across GoOverseas.com. I wanted to make sure I was getting the best experience possible, so I applied to 3 companies with high ratings.
I was fortunate enough to get accepted to all 3. After reading more reviews online, I decided Global Experiences offered the most support before, during and after the internship. Most importantly, it seemed like they could provide a higher quality internship than the other 2. Global Experience's coordinators kept in regular contact during the interview process and this made me feel confident in the integrity of their program and the quality of support they could provide.
What made this experience unique and special?
Austin: I feel like my internship was unique because I got to experience so many different aspects of working in marketing, something most of my friends don't say about their internships back home. My manager gave me a large degree of freedom and responsibility, which is how I work best. The projects I completed were actually used throughout the company and they were very vocal in their appreciation. However, they were not afraid to give constructive criticism when I needed it. I got the opportunity to go to a marketing trade show, sit in on meetings with international clients and go for after work drinks with the rest of the office. I got a true sample of the working life in this industry.
As far as the social aspect is concerned, it comes down to the people I met. There were a lot of fun kids in my Global Experiences group, so someone was always willing to go to a museum or the clubs with me. I was also determined to branch out of my comfort zone and make some local friends. After I did, it made my summer truly unique. My London native friends showed me the parts of the city you never hear about from tour guides. I got to experience how Londoners truly live, and that was by far the best aspect of this summer.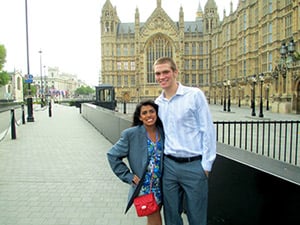 How has this experience impacted your future?
Austin: I made sure to leave as great of an impression on my employer as possible and put forth my best work ethic. My manager really appreciated the work I did and left me with a great letter of recommendation. My LinkedIN now lists cold calling, international sales, market research, graphic design, branding, social media and database management as skills. I had no experience with any of these prior to my internship, but now feel confident in these areas.
As a marketing major, there are three typical career routes: market research, advertising and sales. I got to experience all three aspects during my internship and realized I'm good at research, and less so at sales. But most importantly I realized advertising is what I enjoyed most, and I've adjusted my career path to put me in line with a career in this competitive field. This is probably the single largest benefit of this industry; realizing what I really want to do for a career.
What was the highlight of your experience?
Austin: The working highlight of my internship was spending two days at the MarketingWeek Live exposition in London. While I enjoyed going to work everyday, it was nice getting out of the office and seeing what the newest developments in the marketing industry are. It was a great networking opportunity as well.
The overall highlight of my summer was taking a weekend trip to Amsterdam with some of my Global Experiences friends, and my best friend from home, who happened to be traveling through Europe, and a good friend of mine from Germany met us there. Amsterdam was absolutely beautiful and had some of the friendliest people I've met in Europe. Visiting the house of Anne Frank was a surreal experience in itself, as was the Van Gogh Museum. While Amsterdam may have been lacking in nightlife compared to London (where isn't though?) it was the most fun I had all summer, as I was with so many old and new friends celebrating one of our last weeks in Europe.
What is one piece of advice you would offer someone considering interning abroad in London?
Austin Travel! Once you get to Europe, traveling is really affordable. Hostels, discount airlines and coaches are all great resources for students wanting to experience as much of Europe as possible. There are so many different cultures within a few hours of London, and it's silly not to experience as many as possible while you can.