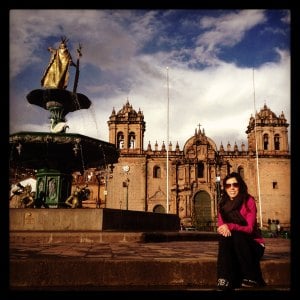 What inspired you to volunteer in Peru with Maximo Nivel?
Lissette: The idea of volunteering abroad had always appealed to me, but I thought that it was really expensive or that I had to spend at least a year in the program. Furthermore, I wanted to contribute something positive to a community, while at the same time getting to know the city and the locals. After more in-depth research on volunteer programs, I realized that there are more flexible options.
The Cusco-Peru program offered the volunteer work that I wanted (childcare) and a great historical location with plenty of amazing sites to visit (ie: Machu Picchu). The whole process was very smooth and everyone at Maximo Nivel was very helpful and open to feedback.
Describe your day to day activities as a volunteer.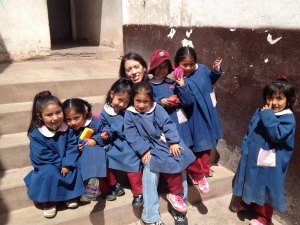 Lissette: A typical day started early in the morning sharing breakfast with the host family and the other volunteers staying there. Afterwards, we all headed out to our specific volunteer placements. I always walked all the way to the school where I was volunteering, (about a 25 min walk) and met the teacher with all the 55 four-year-olds in the classroom.
I helped with homework, organizing the class, playing with the girls during break, and also helped out with the dental hygiene campaign that Maximo prepared for all the children at the school. By lunch, I usually headed back to our host homes, and in the afternoon, I went out to explore the city.
Other volunteers used that time to take Spanish classes, but since I'm a native speaker and I was there only for a week, I used that time to get to know Cusco as much as I could. At night, all the volunteers met back for dinner with the host family, sharing our experiences of the day.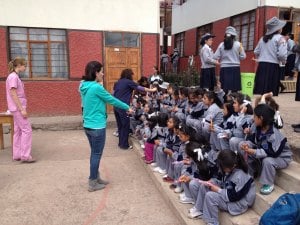 Tell us about one person you met.
Lissette: There are actually two people that I will always remember from this trip, Aly and Dany, the host family. They were the kindest, sweetest and most caring people I've met in Cusco. It was wonderful spending time with them, learning about their lives and everything about their beloved city Cusco. They made me feel at home from the moment I arrived and their company and support made this whole experience even more special.
What was your favorite moment of the trip?
Lissette: I would have to say that one of my favorites was helping with the dental hygiene campaign. It was quite a challenge because I was brought in at the last minute since none of the other volunteers could speak Spanish. So I ended up giving the presentation to all the different groups of children (over 300!!).
It was really rewarding interacting with all the children and getting them excited about taking care of their teeth. The next day, many of them were telling me about how they brushed their teeth and what they learned from the campaign.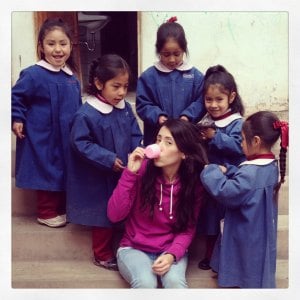 Has your worldview changed as a result of your trip?
Lissette: Yes, absolutely. When you're that close to a community that lacks many of the basic needs or the commodities that you're lucky to have back in countries like the USA, you definitely learn to appreciate even more everything you have and the opportunities that life has given you.
You also learn that to make an impact in someone else's life you don't necessarily need to come up with the cure to an illness or give them tons of money. Instead spending valuable time with them, sharing your knowledge and lending them a helping in hand in what they do will probably be even more appreciated and memorable than anything else.