Why did you decide to volunteer abroad with Maximo Nivel in Peru?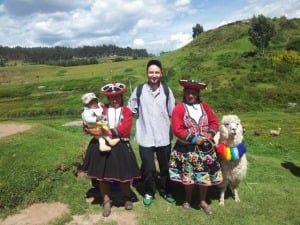 Pierre: I decided that I wanted to learn Spanish and that the best way to learn would be to immerse myself in a Spanish speaking country, I had never been to South America before and after doing some resarch, found out about Peru and its beautiful history and landscape.
I have always been an animal lover and wanted to volunteer for a few months in an animal-related project. Maximo Nivel was affordable and gave me the opportunity to volunteer in a small zoo in the heart of Cusco, providing me with Spanish lessons, a local homestay with three meals per day and any extra assistance I would need while in the country.
The experience was amazing, the family I stayed with opened the doors of their home and their heart to me and made me feel very welcome, as part of their own family. The Spanish lesson were very well organised and I learned a lot in the first few weeks (I didn't know a word of Spanish when I first arrived!)
As for the zoo, despite the staff not talking much English I quickly got my head around the everyday routine of the project and got involved with many aspects of it, including preparing the food and feeding the animals, cleaning the cages and helping with keeping the premises maintained.
Overall I felt very safe and satisfied with this adventure and would recommend it to anyone that is looking to experience something different than the usual touristic holiday.
What was the most interesting cultural difference you encountered?
Pierre: The most interesting cultural difference I have experienced is the ability of everyone to make the most out of the very little they have. The locals are very welcoming and very warm-hearted. The Inca architecture is amazing and visiting the ruins send you straight back to the past!
Their mysterious traditions leave you wondering about your own believes and the way the people dress and the food they eat makes you feel like you are on another world, far far away from home. It was my first time visiting a Third-World country as an adult and it opened my mind on how to enjoy the little things in life.
Another mind-blowing discovery was the lack of rules on the road but yet the absence of any major accident, like an order in chaos, the traffic flows magically through the city!
Tell me about one person you met.
Pierre: Gabriella was my host for the first two months of my trip in Peru, she was a lovely lady and literally felt like my new mom during this adventure, she took great care of the kids that were staying at her place and cooked like a goddess!
Her sense of humour always brightened the darkest days when you were feeling a little down and if you were actually feeling sick you could be certain that she would have you eat some secret magic soup and you would be back on the bandwagon in no time!
And the best of all is that she knows how to party!! I have spent times I will never forget in her house and am glad to be able to keep in touch with her through the Internet.
What was the best moment of the entire trip?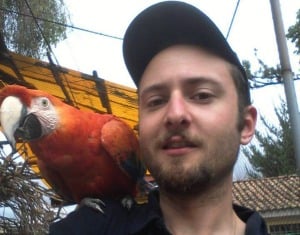 Pierre: One of the most memorable moment during my time volunteering was chasing after animals that would escape, from foxes to monkeys and other weird-looking animals from the Amazon that are smarter than they look! You really get attached to them and love them like your own children, caring for them and giving them as much love as humanly possible.
Nearly everyday something different would happen which made each day as special as the other. Interacting with such exotic animals and learning about them made me realize how close we really are to nature and the impact we have on our ecosystem.
I am so glad to have been lucky enough to be able to get involved with the project and I can safely say it was probably one of the most rewarding experiences I've ever had.
How has this experience impacted your future?
Pierre: I loved my time in Peru so much that I have actually decided to stay for as long as my visa allows and improve my Spanish! Travel is the only thing you pay for that makes you richer and everyday I spend here makes me a better person and gives me more understanding on how humans work in the situation they are put in.
I look forward to speaking this beautiful language more fluently and being able to make a bigger difference for them in the future. I also think that personally and professionally it is a big advantage to be able to see things through a different perspective and this experience has brought me a whole new level of perception on how to tackle life and its everyday problems.