Why did you decide to get TEFL certified with ImmerQi in China?
Jonatan: I have been interested in Asian culture for a long time and last year I visited China and fell in love with the country, the people and the culture. And since I didn't know what I wanted to study I figured I should do something fun and explore the world. I found this program online and it seemed great, I would be able to really experience China for real and also get more job experience.
Did you teach abroad? How has this TEFL course impact your experience?
Jonatan: I have been teaching for about four months now in middle school, my students are 11-14 years old. The TEFL Course have been very useful! I did some teaching before I came to China but it's very different now with the course, I learned many useful things that I will continue to use after this teaching. Of course it's not a complete teacher education, there is only so much you can learn in one month but I think we learned the most useful things and with the experience I've got while teaching I've improved a lot.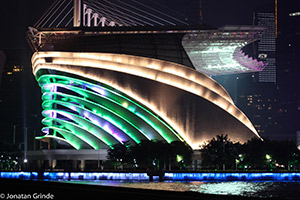 What is one piece of advice you would give to someone considering teaching in China?
Jonatan: My advice would be to be prepare yourself well in any way you can. Read information about the country and the culture, there are many things that will be different from what you are used to and with preparation it will be easier to adapt. Learn a few phrases or words, it's both useful and fun to be able to use the language a little. And make sure to have some money saved, 2000 it's enough to live on but it's good to have some extra money for travels, unexpected costs and so on.
What was the highlight of your experience?
Jonatan: It's very hard to find a single highlight, most things have been great! But if I have to choose I would say the all the meetings, I've met so many interesting people from all over the worlds and learned much about other cultures!
Anything else you'd like to share?
Jonatan: There are many things to say, China is an amazing country and you never know what will happen here which sometimes is frustrating but mostly fun! This trip is a great experience and you will learn a lot!