What inspired you to volunteer abroad with UBELONG in Peru?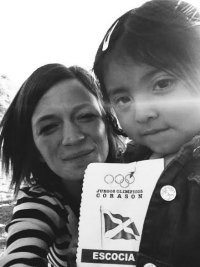 Jenn: Last year I started to seriously consider volunteering abroad, not only to follow my travel aspirations, but also to give something back to the community and people in need. I heard of UBELONG through word-of-mouth and after researching and "shopping around" for ideal organizations, I ultimately decided on their community for a few reasons.
First, the flexibility of UBELONG's programs allowed me to tailor my project to my interests and background. I truly felt like they worked with me to make my experience as enjoyable and valuable as possible, both for me and Club C.O.R.A.S.O.N.
I also admired their grassroots approach to volunteering and their larger than life mission to make a difference. It was affordable and completely worth every penny... although I personally don't think you can put a price tag on this type of experience.
What was your favorite moment of the trip?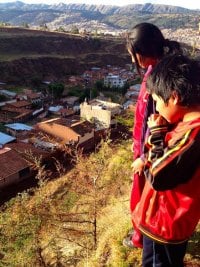 Jenn: I'll never forget my first day at the center. I had volunteered at an after-school center in Chicago during college, but I honestly didn't know what to expect in such a foreign environment.
Tuesday happened to be a "free" day and our time was spent playing consecutive games of volleyball, boys vs. girls. It was definitely a favorite among the kids.
While I was eager to connect with all of them, I also nervous that they wouldn't accept or trust me. In that moment my emotions were running wild, I took a breath of relief, and prepared for the emotional roller coaster ahead.
Of course the last day at Club C.O.R.A.S.O.N. was also unforgettable. Before departing for Cuzco, I started a fundraiser for the center. I wanted to offer them something that would have a lasting impact; something durable and multi-functional.
We raised about $500 which was just enough to purchase a multimedia projector. And my last day at the club was our big movie premiere. During my time at the center, it was easy to understand the impact this gift was going to have, both for entertainment and educational purposes.
But it was in that moment that I truly felt the impact those brave children had made in my life. They taught me lessons that I will carry with me and pay forward to others for eternity. You just don't forget moments like that.
Was there one kid in particular at the after-school center who you will remember forever?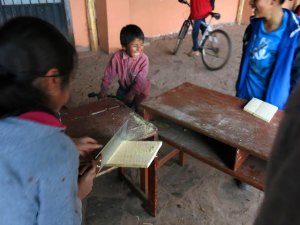 Jenn: I'll never forget one of the regular boys, Oliver. He was the Dennis the Menace of the bunch and defied authority like it was his job. During English lessons, volunteers would take turns scooping him off the tables because he would try to escape through the windows.
He was rough with other kids and laughed vengefully when they would cry, but he knew exactly what he did was wrong. But on several occasions, when Oliver brought his litter sisters to the center, the way he protected them with his "big brother" confidence was surprisingly admirable.
I could tell that he was used to taking care his sisters and he would do anything to keep them safe. So regardless of how difficult it was to manage Oliver's rebellion, he was truly a loving and kind-hearted boy.
If you could go back and do something differently, what would it be?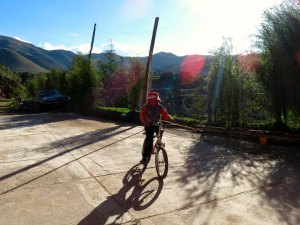 Jenn: Looking back, I would have liked to participate in other community projects and efforts outside of Club C.O.R.A.S.O.N. I volunteered for a short while in Valle Sagrado, but I regret not filling my spare time with more of work.
UBELONG partnered with a Spanish school in Cuzco, so I was able to take language classes. But if I could go back, I would have been more serious about my studies when I had the opportunity to practice with locals every day.
Peru is such a beautiful and diverse country that its landmarks and sacredness are too exhilarating to pass up. So I also don't regret being able to experience that.
Would you participate in this program again?
Jenn: Absolutely. I wish I could have extended my trip and my volunteer project, but I would love to return to Club C.O.R.A.S.O.N. someday. I intend to keep in touch with the director and the wonderful volunteer community I met during my 6-week stay.
Thanks to UBELONG's alumni network and efforts, I'm able to keep in touch with a lot of my friends overseas.