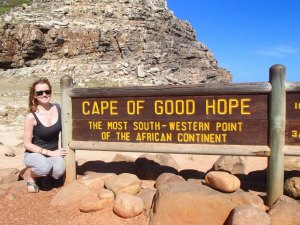 What inspired you to intern abroad with African Impact in South Africa?
Holly: I had just finished university and couldn't decide whether to go traveling or to start looking for work.
I was looking at various internships online when this one popped up, and it was perfect for me - it meant I could do both. I could visit a part of the world I'd never been to before and gain work experience at the same time.
I did a bit of research in to African Impact and the work that they do, and they looked like a good organisation to work for.
They help with a lot of important causes like HIV awareness, wildlife conservation and research, teaching and so on. And reviews from past interns and volunteers were very positive, so I went for it.
What was the best moment of the trip?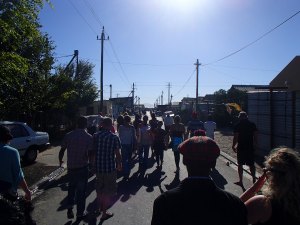 Holly: Work-wise, it would have to be visiting the projects in the townships and seeing first-hand the great work that African Impact has. I got to meet so many dedicated people, and it was really inspiring.
Outside of work, I would say Shark cage-diving was my highlight. We drove out to Gansbaai (another beautiful part of South Africa) and went out on a small boat to see the white sharks in the wild.
It was exhilarating - even if you don't fancy getting in to the cage, it's still worth it just to see them from the boat.
Other than that I'd say just exploring Cape Town in general was a highlight. It's an incredible city, and I look forward to returning one day.
If you change one thing about your experience, what would it be?
Holly: I would have liked to have stayed for longer to be honest, and maybe combine it with a volunteer trip. After 3 months in Cape Town, I still hadn't managed to cross everything off my list before I left (it just kept getting longer!).
I think if I were to do it again, I'd do 3 months as an intern followed by a further 3 months on one of the South African projects (or perhaps working for The Happy Africa Foundation). I'd love to volunteer on the Whale or White Shark research projects.
Tell us about one person you met.
Holly: It's so difficult to single out just one. Everyone I worked with in the African Impact office was great; they're all so passionate about what they do.
The two people I worked with the most were Natalie and Kim, the respective marketing and social media managers. They both love where they live and are so enthusiastic about the work that African Impact does; they were a pleasure to work with.
How has this experience impacted your future?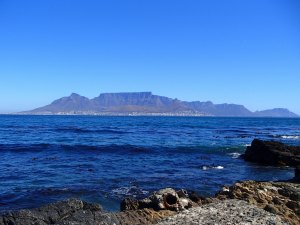 Holly: When I returned back to the UK and started looking for jobs, my internship with African Impact was always the first thing people noticed or asked about.
One interview in particular (the one that landed me my current job) was solely about my time in South Africa!
Personally it gave me a chance to step outside my comfort zone - I moved thousands of miles from home to a country full of strangers, which is a pretty scary thing to do. But it was amazing, and I'd do it again in a heartbeat.