Why did you decide to intern with African Impact in South Africa?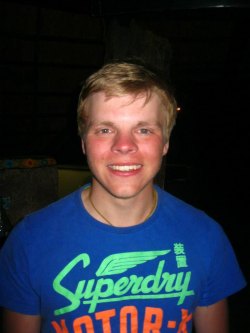 Jack: A combination of admiration and boredom I suppose.
I had previously travelled in Africa and was fortunate enough to know a little bit about African Impact and what it stood for. I really like what African Impact does, the people it works with and long-term benefits of its programs.
So on the one hand I wanted to be a part of that. On the other hand I finished university and really had no idea what I wanted to do with my life. I did a history degree, which does lend itself to gainful employment.
I was desperate to get back to Africa so I sent them African Impact an email and they offered me an internship.
I really had nothing holding me in the UK and the astronauts weren't hiring so I booked a flight and left. Best idea I ever had.
Describe your day-to-day activities as a Social Media and Marketing intern with African Impact.
Jack: The African Impact Marketing department is crazy busy so every day there was a million things to do. I did a lot of sitting down and thinking. Sometimes I would stand up and think.
A large part of my role at African Impact was to generate content for their social media platform. Normally I would get given instructions like: "can you construct a post to promote this project." African Impact has a LOT of projects so I rarely worked on the same one twice.
I would then spend some time researching the project that was to be the center of my attention that day. I would try to find some way to show off that project in a way that I found interesting and would enjoy doing.
If I wasn't generating content I was trawling the Internet for inspiration. Creative ideas rarely occur naturally, oftentimes you have to go looking for them; so I spent a lot of time reading travel blogs to get new ideas for things to write for African Impact. I had a huge folder on my desktop that is full of ideas that might help promote one project or another.
I also spent an outrageous amount of time flirting with the other intern.
How has this experience impacted your future?
Jack: It's been massive for me.
I learned a whole new set of skills and capabilities that I never thought I had. I think marketing really agrees with me, and I think it is something that I would like to do long term.
I started my internship with no idea what I wanted to do with the rest of my life and post internship I have an idea of what I would like to do, so I guess that's progress.
What was the best moment of the entire trip?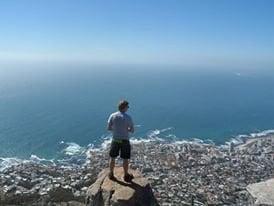 Jack: I think it has to be surfing with the sharks near Muizenburg (which is on the outskirts of Cape Town). I was having an epic day's surfing and generally chilling out like the surf god that I am when the shark siren goes off.
This means that there is a shark in the water near swimmers/surfers and that we all must swim for our lives. I had prior to this experience been fairly nonchalant about sharks in South Africa.
I was leisurely paddling back to shore when 5 meters to my left I spotted a shark fin. It is amazing how motivating the prospect of death by shark really is.
Despite the fear I definitely count this as one of the best experiences I have ever had.
What do you miss most about South Africa?
Beaches, Mountains, Wind (where I am at now is HOT so I am really missing Cape Towns cool breeze).
I also miss Braai's, smoked foods, biltong, and people that say "just now"