You went on the Western Civilization program through Abbey Road in 2010, what made you decide to travel abroad a second time with Abbey Road?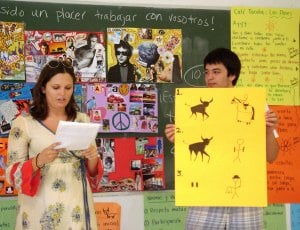 Jason: It is just such an incredible program! I have heard of other students my age participating in different programs and I felt they didn't get the same experience that I did with Abbey Road.
The first year I had never gone away from home before, but they made me love it. I knew I wanted to travel again because I had such a great experience with Abbey Road.
I love the freedom that Abbey Road gives you and I knew that this was the program that I wanted to do for a second year in a row. The Abbey Road staff is also great. They know exactly what they are doing every day.
This past summer, before I went on the Barcelona program I received an excel sheet of our schedule planned out with what activities we would be doing about twenty days before I even left home! 


How did the staff handle organization and the daily schedule? What about student "free time"?

Jason: I thought it the program was incredibly organized. The staff always knew what they were doing. There was never a time when they were wondering what our next activity should be, it was always planned.
The staff had incredible communication. They were also always happy and really positive. They just had really good attitudes.
The amount of free time differed from day to day depending on how many classes we had. We had plenty of time to rest, shop and explore. The days where we had almost no free time were some of the best days I had!
I think our guides did a really good job of allowing us to have a lot of free time. They also asked for our advice and feedback.
They would ask us how we thought the program was going and how they were doing and about what we wanted. They weren't just set on one plan. They really wanted our input. 


Even though you didn't take Spanish, did your Spanish improve? 

Jason: Yes. I wasn't that confident speaking Spanish the first week or so, but even if you don't want to speak it you are forced into learning and without even knowing, you become near fluent in a month.
I wasn't even taking Spanish, but just by being there and going into the local cafes and beaches and asking people for directions and questions and just forcing yourself to learn with a bunch of people that want to learn too.
The other students on the program who were fluent in Spanish really helped too. I could ask them how to conjugate certain verbs or how to ask someone a certain question; they were always willing to help.
The local vendors were also really nice and willing to talk with you. They loved American tourists.
I never had a bad interaction with any of the locals. Even if you bumped into someone on the street, they were really nice about it. 


By now you are an expert student of the Abbey Road Experiential Learning Method, what did you enjoy most about this learning style the instructors use?

Jason: The classes were incredible. We would wake up at a reasonable time and during photography instead of staying in the classroom the whole time and talking about the lens and the photo process, our teacher would take just a few minutes to tell us what she was expecting us to do that day and what we should be looking for and then send us out into the city.
She would always encourage us if we saw something that wasn't exactly what was assigned that day to still just go for it. Then we would meet back up a couple hours later and upload our photos and start the editing process, which was also really fun. The freedom that she gave us allowed us to be more creative, we were rarely in the classroom.
Also, with architecture instead of learning about the place before we went there, our instructor would tell us where we were going and we would learn about it onsite as we were looking at it or even while we were taking a tour inside. The amount of time we put into the classes was the perfect.
The classes put us more into the culture and we could explore more. I have never taken a photography class before. I take a lot of photos at home, but the teacher was really able to show me that you can have fun while learning.
She showed me she really had a passion for learning and teaching which I had never really experienced in my classes back home. It made me want to learn more. 


Do you have a favorite memory from the trip?

Jason: Yes I do. It was the last week of the program and we were all by the beach and someone on our trip had been researching bullfights. There was actually no plan to go to a bullfight during the program.
We started talking about it and we asked one of our counselors if we could go and we ended up going later that day. There were 13 of us that went and just by asking, the staff found one that was close by and got the tickets. Just being at an actual bullfight, in Spain, is a memory I will have forever.