What drew you to Abbey Road? What were you looking to get out of this experience this summer?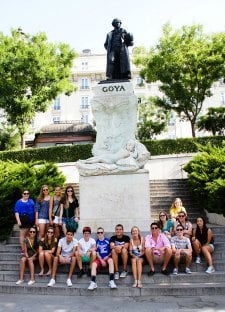 Debbie: Well, this was my first time studying abroad. When I signed up to take AP Spanish I knew that I wanted to improve my Spanish speaking skills and I knew I wanted to go to Spain.
I knew I didn't want it to be one of those typical teen tours I had seen. I wanted it to be a real learning experience and really be immersed in the culture and learn the language and learn about where I was staying to really make everything worthwhile.
It was my idea and my parents were really supportive and we did so much research! My friend Jessie and I went together and our moms were really involved the search.
They had this convention with all these different summer programs and they got a lot of different information.
We wanted to find a program that offered a good balance of independence, learning, excursions, and a homestay. Abbey Road seemed to have everything that we were looking for. 


Can you describe the Abbey Road staff?

Debbie: I felt that all of them were amazing, especially Chris, the Program Director. On summer programs there are always certain situations that happen and I think he handled them really well.
He always had a positive attitude and open to hearing suggestions where people wanted to go and what people wanted to do or eat. He was really fun and could relate to all of us.
All the other directors and staff were great. They taught us that you can have so much fun by learning the language or about the culture.
The whole experience was just so personal that anything that I felt I needed people were always there to help out or if I wanted to do a certain thing they would make time to do it. For example a few girls wanted to do belly dancing and they found a belly-dancing teacher in Cadiz and we had a class.
The staff just made such an effort to respond to everyone's personal needs. And it wasn't just during the program that the staff was really great. Even before the program started the staff was helpful.
There were a few times when my mom and I would get a little frantic about certain things like packing and I could immediately talk to Barbara, the Student Admissions Representative, or she would put me in touch with someone else who I could talk to. I could contact anyone in the program and they were willing to talk to me. 


Can you tell me about your homestay family and your roommate and how that experience was?
I
Debbie: In the beginning Jessie and I were staying with an elderly couple and they were really nice and hospitable, but there were just these little problems and it wasn't working out for us.
We talked to our Director and the people who set up the homestay and they didn't want our homestay to negatively affect our experience, which wasn't a bad one at all, but they immediately got us a new family.
We were placed with this woman, Rosa and she was amazing and such a typical Spanish mother. Rosa has three daughters and a granddaughter so there was always family around. It was never quiet which was perfect and exactly the experience we were looking for!
We were having a good time before, but the switch [to Rosa] dramatically changed our experience. It was fantastic! It was such a great homestay experience.
We always had the option to go out to eat, but we always ate at the house because we loved the food and we loved to hang out with the other girls at the house.
Rosa mainly made Spanish food. Sometimes she would try to make something more American for us, but it never really tasted American.But the overall effort she made to make us feel comfortable was just incredible.
How were your daily Spanish classes handled? What types of activities did you do? How do they compare to your language classes back home?

Debbie: The classes were definitely different and this is another reason why I chose to participate on Abbey Road. The learning experience wasn't completely in the classroom.
The experience was a complete language immersion class. So I would be able to spend an hour and a half in the classroom and an hour and a half to talk to people and find things and that was a more engaging way of learning.
It was very different than spending 45 minutes in the classroom, even if it's about culture, which is very interesting. When you're actually exposed to what you are learning it's a totally different experience.
Our class size was great too. There were 10 or 11 of students and the teacher, who was awesome.
Do you have a favorite memory from the Program?
Debbie: I think probably the second night of the trip. We had a group dinner and then after we went to the Cathedral area and we were still getting to know our way around the city.
We were wandering around a little bit and we found out way to the Cathedral and this huge plaza. It was only the second night so we were looking for things to do and there was this huge concert and it was so much fun.
There was music and dancing and everybody in the city just seemed to have congregated to this plaza. It was a great start to the program.