Why did you decide to volunteer abroad with Maximo Nivel in Peru?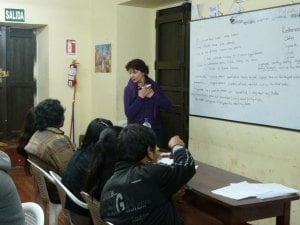 Eli: Maximo seemed to provide a cost effective project and seemed to have a supportive team. I felt confident that they would ensure I was able to teach English, be catered for and make things run smoothly.
It's difficult to know what you will experience with an organisation but after going through a lot of places on the web this one seemed to fit the bill. In addition, them having an office in New Zealand made the whole thing seem feasible.
Describe your day to day activities as a volunteer.
Eli: Day to day activities included preparing for the class, using the web for resources and also devising resources that were culturally sensitive. Preparation took about 1 hour and the teaching about 3.
In addition, I undertook Spanish language classes for 2 hours in the afternoons. I found daily classes too onerous and stretched it out (I did about 3 classes per week over the 3 weeks). That worked better for me.
As a volunteer I breakfasted with other volunteers, chatted with them daily at some point etc. I did a couple of tours with some volunteers but as they were a lot younger than me most of my trips to the mountains and archaeological sites were solo.
I had fun and adequate social contact with other volunteers. My night classes and older age meant that I didn't participate in the night life of Peru. Had I had a companion though I may have indulged a couple of nights per week!
Has your worldview changed at all as a result of your trip?
Eli: Not really. I have for most of my life known about the disparity between rich and poor nations, the injustices and difficulties faced by people in developing nations.
What was different this trip was that I experienced greater cultural immersion through the students and taking a few risks to travel by local buses on my own. It was interesting to mix with local people and observe their life style. I felt privileged to do that.
I learned more about the kindness of Peruvians. They really help one another and I always felt safe travelling on my own because of the Peruvian generosity.
I love Peru and its people and their traditions. I know a little more about Andean cultures and religions and this is of great interest to me.
What was the best moment of the entire trip?
Eli: Fun in the English classes with highly committed and engaged students!
I especially loved walking at Pisac and Ollantaytambo on my own amongst the archaeological ruins. It was truly inspiring and what I came for in terms of personal adventures. Some of the mountain tracks were scant and dangerous but the fantastic country meant I just had to keep going.
I spent entire days walking in the mountains imagining how previous civilizations managed to make a sustainable life there. The Incas and previous civilizations were amazing and to walk where they walked and lived was awesome!
Any tips for someone considering this program in the future?
Eli: Enjoy yourself, enjoy the people and their traditions. Look after yourself and don't expect others to. Everything will work out fine if you take the usual care a person should anywhere they go.