Why did you decide to travel abroad with Rustic Pathways in Asia?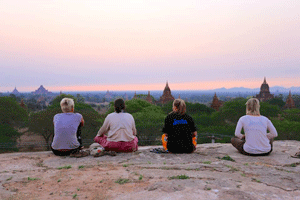 Allie: My goal for my gap year was to travel to as many countries and experience all they have to offer.
After hearing raving reviews from my brother who went to Costa Rica and my friend who went all over Asia with Rustic, I had to see what all the hype was about.
I had a taste of Rustic after spending a month in Fiji with them during the fall. The second I got home I was ready to leave again and explore more countries.
The trip included Vietnam, Laos, Cambodia, Thailand, Burma, and India, 6 countries in 3 months. I had never been to Asia. This was the perfect opportunity.
What was the most interesting cultural difference you encountered?
Allie: While traveling, every country had something different to offer, but the one country that stood out from all the others was Burma. Burma was always an enigma to me. I could not wrap my mind around the fact that they just lifted the ban on tourism in November 2010.
Tell me about one person you met.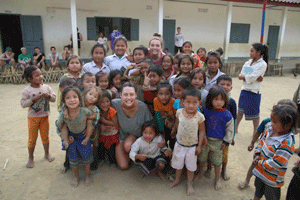 Allie: My trip leader, Kevin, could not contain his love for the country. He educated me on the National League for Democracy and their fight against the military regime.
Living as an ex-pat in Thailand, Kevin has the privilege to travel to Burma frequently. He would talk about how in Burma you had to go to the black market to exchange money.
He told us how the currency is constantly changing because of the military as well. He is extremely passionate about Aung San Suu Kyi and her struggle to become the democratic president.
Kevin turned Burma from a mysterious world of tyrannical rule to a country filled with culturally rich loving people. He and fellow trip leader, Kinga, planned a photo scavenger hunt for our group. Some categories were such: walk hand in hand with locals, drink Burmese tea at a tea shop, and perform the job of a local.
Was it difficult to navigate around language barriers?
Allie: The hardest part was trying to communicate with the locals to have them take a picture with us. Usually we just got stares, but if they understood they joined right in.
Burma has this stigma of being seen as this unknown land, but that's because we learn so little about the country. Experiencing it first hand, no one mentions the military, just the love the locals have for their country.
What was the best moment of the entire trip?
Allie: The best moment of the entire trip was a night we spent in a village in Laos. Once the sun set, it was time to go to bed. As we walked back to our house to sleep, a fellow student, Brooke, and I heard music playing.
So naturally we started dancing. The rest of our group joined us. Curious kids came to watch, as did the adults. Soon enough everyone was dancing, only with the moon as the spotlight.