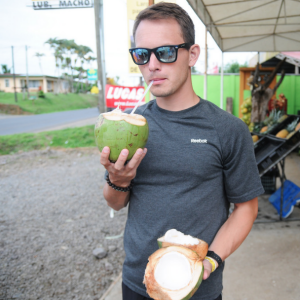 What is your favorite travel memory?
Appropriately, I am fond of my own gap year! In 2008 I lived and worked in Nicaragua as a volunteer volcano tour guide. The travel and service in Central America was one half of a gap I took between my sophomore and junior years of university. Beyond the usual responsibilities of young-adulthood in the United States, the months in Nicaragua were the first time I found myself completely independent and responsible for helping operate a small non-profit organization. There are experiences, people, and memories from that Summer volunteer program that I continue to be positively influenced by today!
What do you believe to be the biggest factor in being a successful company?
In my role, I strive to achieve timely, clear, and helpful customer service to students and their families while they are planning their gap year. As a company, however, I believe the most effective factor is that we run incredible, life-changing programs. Our operations and country teams put their lives into running great programs. Every day, I am amazed by the sacrifices they make and the performance they give for our programs. I could deliver the world's best customer service before a student's program but, at the end of the day, what matters is how the program is run and how it will positively impact that student's life and the areas of the world they visit. That consistency in running incredible programs is what has been the secret sauce for more than thirty years!
Describe a time when you felt especially proud to be part of your current team.
Since I am not directly on the programs as much in my role of Gap Admissions, I don't always have a chance to be with students while they're traveling. Last Spring, however, I worked as an airport coordinator to help departing gap students make their connections and check their bags on their way to Fiji from LAX. Meeting and talking with those students and seeing, first hand, their excitement and nervousness to depart, reminded me of the reasons students, myself included, take gap years. It made me really proud of our organization and my team for coordinating the trip and making those experiences possible. I'm hoping for the same airport experience this Fall!
What is the best story you've heard from a return student?
I am always impressed by students who return home from a program so moved by their experience that they to continue to serve. One of my favorite examples is a student who returned home and started her own website, to benefit the Save the Elephant Foundation. Just the other day, a colleague shared with us the story of another alum who traveled a program in Cambodia six years ago. Recently, she graduated university and presented her research on land-mine disarmament in the region to the United Nations! Similarly, I love hearing when coworkers of mine had been Rustic Pathways students in the past. It shows that their travels and service impacted them so deeply that it become their life's pursuit to share that with others.