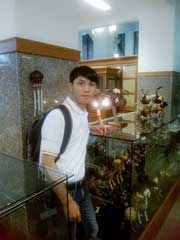 Why did you decide to study abroad with Student Exchange Vietnam?
Vongsack: Personally, I think that studying abroad is a good way for new generations like me to have an opportunity to continue learning in many countries, specifically to gain knowledge and new skills. As you know, English is a language that has the biggest influence around the world. Anyone who is able to speak and communicate well in English is really fine because coming to study from overseas you should make sure that your English that is good enough to communicate with another people.
So when I was studying in high school, I thought that I wanted to have a chance to continue my studies overseas by expanding my foreign language skills and so I was looking for a place to learn English until I could speak and communicate with a foreigners. One thing I always keep in my mind is non-stop studying until I would graduate from an overseas University.
Moreover, I was thinking about how I could upgrade my ability so I decided to look for a scholarship to continue my education in a foreign country. This way, I am setting a goal to complete my degree overseas.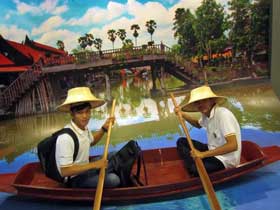 What makes this study abroad experience unique and special?
Vongsack: Coming to study in a foreign country is a great opportunity for me to move forward toward goals that I set as a child. People always want to seek new knowledge and look for ways to increase their abilities, and these things really motivate me to become eager to learn and to challenge myself.
For me, having a chance to continue my education abroad is an important part of my life. Currently, I am learning BUsiness Administration at FPT University in Vietnam. I really appreciate that they use such high technological marvels to teach. This way it is a lot easier for me to obtain more skills and talents.
I'm falling in love with the Vietnamese culture as well!
Tell us about an experience you had that you could not have had at home.
Vongsack: One day, I was one of ten students who had a chance to attend an exchange program in Bangkok, Thailand! The first day when the bus took us through the border checkpoint, I saw some Laws students who had scholarships to the University in Thailand who were waiting for us to attend a ceremony to join in on activities there.
We went and visited Bonsai forests, folk arts and crafts centers, and Prathumthani Province!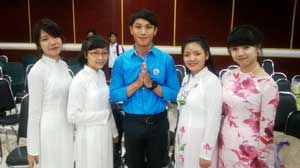 What did Student Exchange Vietnam do for you, and what did you need to do on your own?
Vongsack: Exchange studnets in Vietnam were very helpful and gracious. Living there made me come to think of it as my second home. All the students were ready to assist me whenever I had a problem, and they took care of me as if I were one of them. Their generosity and hospitality inspired me to continue studying abroad even after my program ended.
I'm a pretty extroverted person, and like getting my energy from active involvement in different activities and events. I really like to spend tie with people!
What is one piece of advice you'd give to future Student Exchange Vietnam students?
Vongsack: I think one of the most important things to keep in mind is to be agreeable, optimistic, and go with the flow - because you never know what is going to happen. In addition, I recommend that students should be productive, performance oriented, and respectful.
Do you think your program changed you as a person?
Vongsack: The most wonderful part of my life was coming to study business administration at FPT University!