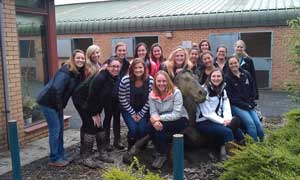 What did you decide to study abroad with Adelante?
Kyla: I decided to study abroad with Adelante because I know previous University of Missouri students who have done with same program. These students had nothing but good reviews about Adelante and this study abroad program. They were a great source of information when I asked them questions about how Adelante works with the University of Missouri to organizes this trip.
They told me where Adelante organizes weekend outings such as St. Andrews and Edinburgh, how the classes were taught and more importantly, what to expect that will be completely different from the United States. These students and Adelante gave me great advice on how to prepare for my trip such as checking with your cell phone provider to get international coverage and telling your bank about your trip ahead of time so you have access to your bank account abroad.
I also chose to study abroad with Adelante because it made me feel more secure when I was in a different country. If anything did go wrong while I was in Scotland, I not only had University of Missouri to keep me safe but also Adelante.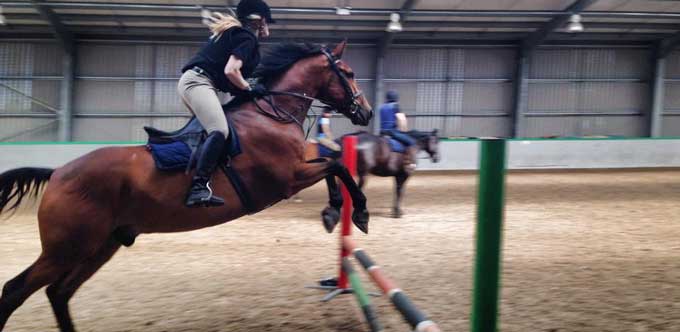 What made this study abroad experience unique and special?
Kyla: The equine aspect of course! Equine science is my major so I originally thought it was going to be difficult to find a study abroad program where there are horses involved. It was great to take classes that focused on improving a horse's fitness and learning more about their anatomy and physiology. The riding though was the best portion. I got to ride this huge Warmblood gelding name Big Billy and he was such a pleasure to ride because he was a fantastic jumper.
Another unique aspect was that no University of Missouri or other school's professors came on this trip. This was a little frightening at first because I would not have a fellow University of Missouri person with me to support me but I did like the independent feeling of going to a different country all by myself.
What was the best place you visited outside your study abroad city?
Kyla: The best place my group and I visited was the gorgeous city of Edinburgh. Before this trip, I have only see Edinburgh in pictures and on television. To see this actual city in person was a completely different experience. It may seem like a big city at first but once we walked around and found shortcuts to and from destinations, it seemed to get smaller.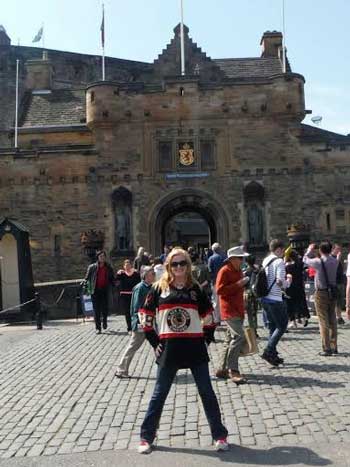 The day we went we were actually lucky with the weather as it was sunny and unusually warm for Scotland. We toured the entire city and saw the incredible Edinburgh Castle and went to the Elephant House (where JK Rowling wrote Harry Potter).
Those two places were enjoyable but the best part were the people. The town locals were so friendly and open to us tourists. We would ask were the best places to eat and shop while we were in town and they would always point us in the right direction!
​Where was your best photo taken and what was it of?
Kyla: My best photo was taken when I was in Edinburgh in front of the castle. However, in the picture, I am wearing my Chicago Blackhawks hockey jersey because it was playoff season during my trip!
The Blackhawks were in the middle of the Western Conference Finals against the Los Angeles Kings so I figured I would wear my jersey at the castle to symbolize the Blackhawks taking over the Kings castle! Unfortunately, the Blackhawks did not win the Western Conference finals against the Kings but I still had fun representing my home team all the way in the United Kingdom!