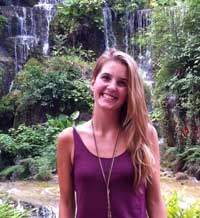 Why did you decide to study abroad with Omeida Chinese Academy?
Catherine: I studied at Omeida Chinese Academy because it was recommended to me through the program I was following in China. I was doing a medical observation internship in Guilin this summer and it was highly recommended to our group to learn some basics in Mandarin before starting our work at the hospital.
Omeida had already welcomed the medical students from last year's program and the students had a GREAT time, so they referred the school to us. The one week intensive program was ideal for us because it taught us enough to be able to introduce ourselves at the hospital. The "survival Chinese" course was perfect for our needs of communication around town.
Where was your best photo taken and what was it of?
Catherine: My best photo was taken at the top of the TV tower in Yangshuo. We woke up very early to hike and see the sunrise at the top of this mountain and it was completely worth it! The TV tower offers a 360 degree view of the beautiful peaks that surround the town.
We did our hike on a cloudy day, but the peaks pierced through the clouds, creating one of the most magical landscapes I have ever seen. You MUST do this hike if you ever visit Yangshuo. The teachers will help you find it because the path to get there is hidden. This is not a tourist attraction but rather a hidden treasure of Yangshuo.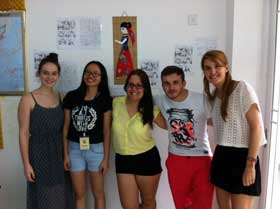 If you could do-over one thing, what would it be?
Catherine: I would have either stayed longer than one week or tried to learn some Mandarin on my own before coming to Omeida. I have been able to learn the basics of the language during my stay, but with an intensive one week class I feel like I have learned so much in such a short period of time that I have forgot a lot of it very soon afterwards.
If I had done some studying on my own beforehand I could have reviewed some basics once at school and I think that my Mandarin would be better now. Another option would have been to stay longer and therefore practice longer. Moreover, since I was only staying for a week I was not assigned to a Chinese language partner. I believe that having scheduled conversations with a Chinese speaker could have helped me a lot and I regret not having the chance to live that experience.
What was the best place you visited outside of your study abroad city?
Catherine: Yangshuo is a wonderful city that was definitely a highlight of my trip, but besides my study abroad city, my favorite place was Longji rice terraces. The man-made rice terraces created a spectacular landscape.
The mountains are covered in well-designed layers of rice fields and depending on the season, the visitors can appreciate a variety of breath-taking views. I really enjoyed the hiking, visiting the minority village, trying the bamboo rice typical of the place, etc.