What do you believe to be the biggest factor in being a successful company?
Becky: The approach of the boss. I once heard that 'a group of sheep with a wolf leader can win over a group of wolves with a sheep leader'.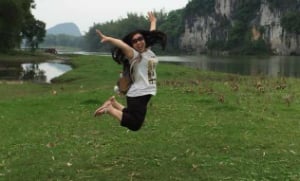 An open-minded boss can create a positive environment which will influence the staff; the staff will then work hard as a reward. We are lucky to have an open and inclusive boss here at Omeida.
Why is language learning and cultural immersion important to you?
Becky: Language is a key part of culture. People use language to express their thoughts and a language can reflect many aspects of the beliefs of a nation. In turn, by learning a language you can understand the deeper characteristics of that culture.
For example, in Chinese, we always express time and location from the biggest unit to the smallest unit. Actually, the pyramid way of thinking exists nearly everywhere in Chinese culture; in a family children must obey the parents, in a company staff must obey the leader.
Describe a time when you felt especially proud to be part of the Omeida Chinese Academy team.
Becky: Every year, Omeida holds a 'Teacher of the Year' competition. Last year I was a finalist and told the organizer that I would like to withdraw from the competition as I felt other teachers needed more encouragement than me. But I was refused. Though I had to continue to participate in this activity, I didn't treat it seriously.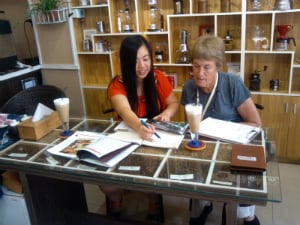 However, two days before the final day, staff from Omeida Chinese Academy worked together to send more than five hundred emails to ask people to vote for me. They didn't tell me until they finished sending those emails. I didn't expect to win the material gift from this game, but what they did really surprise me and I was moved. They are the best people to work with in the world.
What was your favorite traveling experience?
Becky: A trip to a coffee exhibition in Shanghai. Various famous brands of coffee were displayed at the exhibition and visitors could taste different kinds of coffee from all over the world. A highlight for me was having the opportunity to watch the championship in Latte Art.
I met an Australian editor from the coffee industry who told me that most foreigners don't know about Chinese coffee. He asked me to write an English article for his magazine to introduce the good quality Yunnan Arabica coffee to Australians.