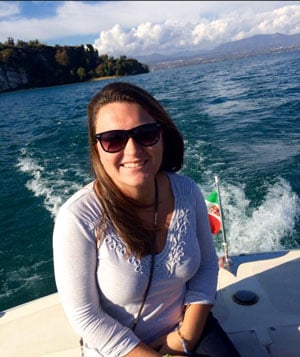 Why did you pick this program?
Erin: I picked the CAPA program because they seemed like the best fit for me. They had unique classes that students can choose take. CAPA also has a MyEducation program which allows the students to experience the Florentine cultures by attending different activities, lectures and discussions.
What do you wish someone had told you before you went abroad?
Erin: I wish someone told me that it was going to go by quicker then expected. My 4 months abroad felt like a month. You need to live in the moment and never say no. Do whatever you want when you want. Do not wait for tomorrow because tomorrow will be gone before you know it.
What is the most important thing you learned abroad?
Erin: I learned that there is more out there than my little New Jersey bubble that I live in. I was able to experience so much in such a small amount of time. I learned to live in the moment and take everything in.
What was the hardest part about going abroad?
Erin: Being away from my friends and missing out on stuff back home. However, you can always FaceTime your friends and family when you need to talk to them. Then again, you are abroad having way more fun than your friends back home.
What's your favorite story to tell about your time abroad?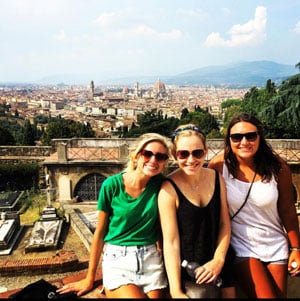 Erin: This one time my friend and I went for a run the second week of being in Florence. We accidentally took a wrong turn and got lost for over two hours. Even though we panicked a little bit, we were able to see so much of Florence. We found some many hidden gems that we would never have found if we didn't get lost.
What things would you recommend packing with you?
Erin: 1) Benadryl and NyQuill
2) Raincoat
3) Copies of your passport and visa
4) Peanut Butter
What made this experience unique and special?
Erin: This experience was very special to me because this was my first time ever in Europe. I was in a foreign country, had to learn the language, find my way around and plan out the different activities and place I wanted to go to. I became a more independent person and a better cook because of this experience.
Tell us about an experience you had that you could not have had at home.
Erin: CAPA has a program that allows you to teach little kids at the local school once or twice a week. This experience allowed me to teach the kids how to speak English and they taught me how to speak Italian. I gained valuable communication skills and patience through this experience.
What is one piece of advice you'd give to someone going on your program?
Erin: To do as many of the MyEducation events possible. They are so much fun and you can really experience Florence through these events.
What made this trip meaningful to you, or how did this trip change your perceptions, future path?
Erin: This trip opened my eyes to the world around me. It opened my eyes to different cultures and ways of life. I know that I want to travel while I am young and see the rest of the world. I would highly consider traveling for work.