Why did you pick this program?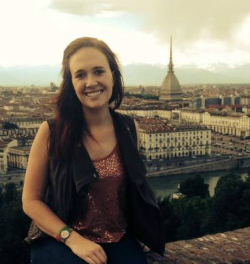 I had only been to Europe once and wanted to go back, but I wasn't sure which country I wanted to live in. Going somewhere off the beaten track, where I could fully immerse myself was something I was looking for in a program.
I had family from Italy and some still living there, so I thought it would be cool to see where I came from. The program I went on
(USAC Torino, Italy) also fit perfectly with my major so it all just kind of fell into place.
What do you wish someone had told you before you went abroad?
I wish someone had told me to push my comfort level more. Looking back on it I wish I had gone somewhere even crazier, like Thailand. I am still very happy with my experience though. I also wish someone told me to bring a "real" camera. I got some amazing photos on my phone but the quality could have been a lot better with a real camera.
What do you tell your friends who are thinking about going abroad?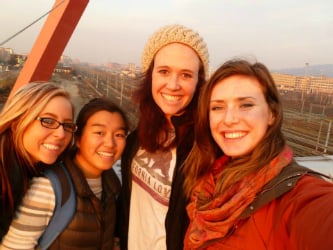 Stop thinking and just do it! And do it for at least a semester !
Pick a place you don't think you'll go to a lot when you're older. Like I know I'm going to Paris, but India that a place I wouldn't expect to travel a lot too when I'm older so why not go now. However if that's the only thing that works then do it, cause you'll have an amazing time wherever you go!
Bring a journal, you will want to remember things that you might not want to post on a blog. I loved writing in my journal and keeping tickets and restaurant business cards, to remind me of my time abroad.
What was the hardest part about going abroad?
Coming back to the States, and not traveling all the time was/ is definitely the hardest part about going abroad. I caught myself speaking Italian to people and trying to order food in Italian. I had also had finally gotten use to Italian customs and then I come back to the States and have to relearn ours. It was also hard not seeing a new place every weekend. I found a hunger for exploring so know I try to visit places in the US I have never seen.
What's your favorite story to tell about your time abroad?
Ummm all of them, haha. I don't even know where to begin here, there are soo many sides to studying abroad.There are stories of travel, miss communication, culture, night life, making new friends, exploring, and so much more.
What made this experience unique and special?
You are getting to live in another country, with out having to worry about all the things that adulthood will one day bring. Nothing is holding you back, you get to see a place in the world and actually experience it. You're also learning skill you never knew you had or could have.
Going abroad knowing no one can seem scary but trust me, you'll make friends. I loved freshman year of college and to me the first weeks of studying abroad were just that. Everyone wants to make new friends and lean all they can about you. The bond you make with the people on your program will be like no other you will ever have again. No one will ever understand what you guys went through.
What is one piece of advice you'd give to someone going on your program?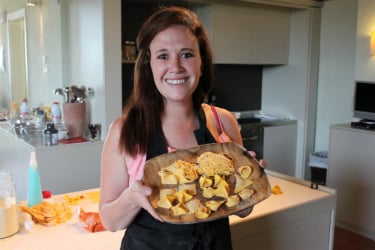 Read-up on the place you're going to live and places you are going to visit, and read more than one source. This is so important so you don't miss anything and you can truly appreciate what you're seeing.
This will also help you know what to pack. I packed a ton of heavy winter clothes after reading one source and when got to Torino it only snowed once, only one time, and here I was with the heaviest of winter clothes and hand warmers. So I ended up having to buy a lot of new clothes so I wouldn't be sweat to death.
What is your favorite study abroad quote?
The world is a book, and those who do not travel, read only one page