What is your favorite travel memory?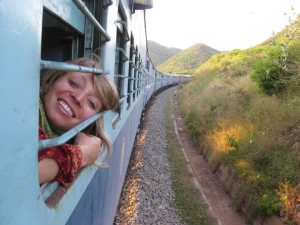 My favorite memory is with my SOL Mates (Sol students) on our magical Punta Mona Caribbean Permaculture Excursion. The adventure starts with a boat ride out over the ocean to a rustic sustainable ecolodge on a pristine white sand beach. We stay in palm-roof bungalows, learn about permaculture (a system and philosophy of living in harmony and balance with nature), cook and eat organic food, hike through the tropical forest and taste tropical fruits right off of the trees. There is sea kayaking and snorkeling over the coral reef, yoga in the shala, and mud bathing at the river.
Early in the morning we wake to the sound of the howler monkeys and go to sleep to the sounds of the cicadas chirping their long-songs. My favorite moments are singing around the campfire and making chocolate from fresh roasted cacao pods which we eat in a candle-lit cacao ceremony. Punta Mona is a place that pulls us all out of our comfort zones and into a closer relationship with nature, ourselves, and each other.
What do you believe to be the biggest factor in being a successful company?
The biggest factor in SOL's success is the genuine enthusiasm and care that our staff holds for each of our SOL Mates. From their first phone call to SOL headquarters in Austin, Texas to the moment they step off of the plane in-country in Mexico, Costa Rica, Argentina, or Spain, our students know they are cared for and supported by our SOL team 24/7. Through our authentic cultural activities and adventurous excursions, we always strive to provide the most immersive and memorable experiences while keeping our programs as affordable as possible for our students.
What is the best story you've heard from a return student?
We have so many inspiring stories of SOL Mates who have gone on to use the Spanish and cultural knowledge they gained abroad with SOL to make their corner of the world a better place. Our SOL Mates have become Spanish teachers, bilingual health educators, nurses, lawyers, social workers, and leaders who can better serve diverse populations in the United States. Some caught the travel bug and continue to explore cultures around the world.
The effect of study abroad on the brain is such that you cannot return home the same person you were when you departed.
That is the most exciting aspect of what we do -- to be a part of the transformative and life-changing journey of study abroad.
What unique qualities does your company possess?
SOL Education Abroad is unique in that we are extremely motivated to offer a personalized, transformative, and exceptional study abroad experience. We evolve and grow with our SOL Mates, incorporating their ideas, feedback, and inspiration into each program. As SOL directors in Costa Rica we are able to share our passion for peace and environmental conservation with our SOL Mates. Costa Rica abolished its military in 1948 and is home to environmental and social movements to protect its precious biodiversity. It is a perfect country in which to fall in love with nature and know that a more peaceful existence is indeed possible.
Describe a time when you felt especially proud to be part of your current team.
I'm especially proud of our team when we go the extra mile to make study abroad possible for SOL Mates who never thought they would have the opportunity to go to college, let alone study abroad. I am proud when our SOL Mates find that when they study abroad with us they can come out and express who they really are, many for the first time in their lives. This is a beautiful thing -- to appreciate the diversity of human identities, languages, cultures and backgrounds and yet also understand that we are truly one human family.