What is your role at African Impact? What inspired you to join them?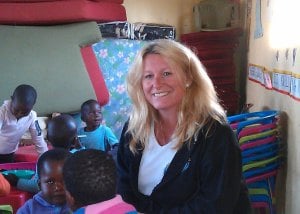 Amanda: I am the Business Manager for the African Impact projects at Thanda Private Game Reserve. Following redundancy in the UK in 2009 I visited Zimbabwe to join African Impact's lion rehabilitation volunteer program at Antelope Park in 2010. It took less than a month in Africa before I fell in love with the continent and returned to travel 6 months later.
I joined the African Impact Thanda team in March 2011 as I wanted to experience working on a Game Reserve, but also to help volunteers have a great experience like I did in 2010!
What do you enjoy most as far as your role?
Amanda: Meeting volunteers from all over the world. Each brings some great new ideas to the group.
What is your favorite story of a volunteer's experience with African Impact in South Africa?
Amanda: I have no real favorite stories (there are too many!). But what I love most is to see volunteers' faces on their first ever game drive in the reserve - and when they spot their first wild animals. Their faces light up like it's Christmas and all their dreams have all come true!
What should every volunteer considering South Africa know?
Amanda: Volunteers should consider the best time of year for them to visit the projects. Game viewing in easier in winter than it is in summer, with less foliage and coverage for the animals to hide behind. However, it can also get very cold in the early mornings and late evenings. Summer, whilst lovely and hot with beautiful greenery, can see quite heavy rains.
Also, spiders and snakes become more active in the summertime. At the beginning of the year you will have a chance to see newborn antelope and other young animals. The local people in KwaZulu-Natal have a vibrant culture with amazing customs, and their laughter is infectious!
Sights not to be missed in KwaZulu-Natal include the Drakensberg Mountains, the heritage site iSimangaliso (for its hippos and different scenery including the second largest vegetated sand dune in the world!), and Tembe Elephant Park where you'll find the largest tuskers in South Africa.
What tips/insights do you have for first-time volunteers abroad?
Amanda: Wear warm layers and always bring a beanie in winter. During summer don't forget your sun cream, hats and mosquito repellant and always remember to drink lots of water to avoid dehydration in the hot African sun. Always carry a camera – you never know what you'll see!
For ladies, if you are visiting a local community be respectful and wear a skirt below the knee.