Why did you decide to enroll with African Impact in Zambia?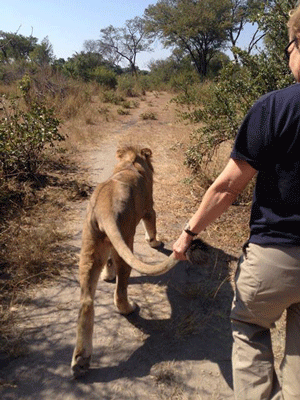 Libby: I was looking to take a vacation that would provide me with more of a lifetime experience rather than sitting on a beach drinking beers.
I had been to Africa twice before and it was always a very rejuvenating, special, and meaningful trip. I needed to remind myself of what's important in life, connect with nature, and give some of my time.
In my search for a trip to take, I simply put "Volunteer in Africa" in google knowing that I would find several options.
After looking at the African Impact page and seeing the hands-on lion conservation program, I knew that it what I wanted to do. I have been working in the zoo industry for 20 years and got my start working with lions in captivity.
Describe your day to day activities as a volunteer.
Libby: My day started early with our first group meeting at 6:45am to get our day's assignments. You would either do a client walk (lion walk with paying tourist) or a walk with just the guides and other volunteers.
There was also meat prep for the lions, creating enrichment toys for the lions, learning about the culture of Zambia, helping clean up trash along the road, cleaning lion enclosures, going to local schools for community outreach, or the best…walking and spending time with the cubs!
The morning, afternoon, and late afternoon sessions were about two hours long so you had a break for breakfast, a long break for lunch, and you were done by 5:00pm pretty much every day.
I also had the opportunity for some free time and had the thrill of bungee jumping off the Victoria Falls Bridge. I also got a traditional "high tea" at a luxury hotel and did a micro flight over the falls as well.
Do you feel like you made a significant impact on the local community? Why or why not?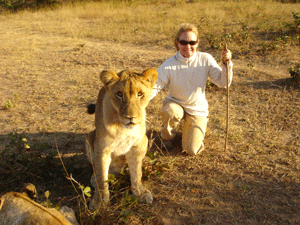 Libby: As far as school community outreach, I did help (but very little as I was there for the lions) with reading to kids. I helped with physical education and taught art class.
I know the kids really appreciate it. I would have liked to talk more to the community about why lions are so important to the ecosystem.
Without a predator to regulate prey populations, the ecosystem will collapse, ultimately affecting not only animal populations, but the climate, the rivers, the land, and etc.
I think, on a whole, the project is making an impact. I personally just played a small role, but as mentioned, I think more lessons should be made on the demise of wild lion populations.
What was the most interesting cultural difference you encountered?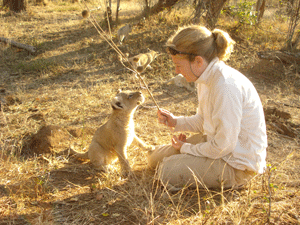 Libby: I did not really encounter any cultural difference since I had been to Africa before and had seen the difference between life in a game reserve and life in a populated city like Livingstone or Nairobi.
Tell me about one person you met.
Libby: It would be impossible to name just one! I met wonderful people from around the world and became instant friends with some of them.
They are people I will know for a very long time and who I hope to visit in their home county or town. I was touched by some of the lion handlers and how much they loved "their" lions.
They were all very friendly and fun to be around as well. The staff was very helpful, approachable, and took the time to make sure we were all happy and enjoying ourselves.