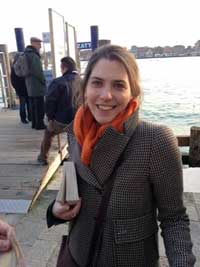 Did YOU study abroad?! If so, where and what inspired you to go?
Alex: I was lucky enough to go on a two-week AHA summer course when I was 17 and it changed my life! At the time I wasn't really aware of History of Art as a subject in its own right but I loved history and being out and about looking at things so thought I'd get a lot out of it. The course traveled from Rome to Florence and finished in Venice.
I remember being blown away not only by everything that we were looking at, but also by the style and quality of teaching (small, intimate groups; discursive and inter-active rather than lecturing) and by the whole atmosphere of the trip, geared towards enjoying everything Italy had to offer, with a real spirit of adventure. After that I kept returning to Italy for many years under my own steam, whether to study Italian, research for my Masters, or simply to enjoy being there
Which study abroad destination is most underrated? Conversely, which is most overrated?
Alex: I'm biased, but I am convinced that spending time understanding European history and culture and developing 'an eye' for art and architecture is an absolutely crucial part of nurturing a cultivated mind. There is much to be said, of course, for independent travel and experiencing and contributing to other societies through volunteer work abroad.
However, it is rare that we have the time and energy in life to dedicate ourselves to expanding our intellectual horizons without any pressures from deadlines, exams and assignments. Subsequently I would urge students with an opportunity to 'study abroad' to grab it with both hands – and to make the most of their time by getting out and about, looking, listening and learning.
What do you believe to be the biggest factor in being a successful company?
Alex: From my experience, a company is shaped and driven by the team representing it. At AHA we are incredibly lucky to be led by a truly inspirational Director who over the last 30 years has built up a team of very special tutors. Working closely together in the field as we do, it is crucial that we respect each other (and enjoy one another's company!) – and this in turn feeds into our relationship with students and our teaching. Creating an atmosphere where both colleagues and students are learning from each other is, I think, the key to success and fulfilment.
Describe a time when you felt especially proud to be part of the Art History Abroad team.
Alex: We are very lucky at AHA to attract students from all over the world, each with their own special interests, talents and stories to tell. I think the most magical thing about our trips is that they nurture a very special bond between students and between tutors and students too. We have had some people on our courses who have struggled at school for academic or other reasons and seeing them blossom and open up over a course is a great privilege.
After a recent course I received a text from a student I had initially met on a trip to America and encouraged very avidly to come. She said: 'Thank you for everything. This has been a life affirming, life changing experience and I couldn't have asked for better. I'll miss you all so very much'. It is feedback like that which makes me most proud to be a part of AHA.