TEAN: Study Abroad in Wollongong, Australia
Term
Academic Year, Fall, Spring
View Other Details
0 travelers are looking at this program
TEAN has partnered with the University of Wollongong to provide students with a unique and memorable study abroad opportunity. Study in close proximity to Sydney, while immersing yourself in this laidback beachside city which boasts an incredible coastal environment. Students in Wollongong can enjoy a comprehensive program, fun nightlife, vibrant arts and culture scene, brilliant beaches and stunning outlying coastal destinations to explore.
Included in the program is a 5-day Orientation Excursion in Cairns where students visit the Great Barrier Reef, organized cultural activities throughout the semester, and an optional Spring Break excursion to Thailand or New Zealand (how amazing does that sound?!).
Discover Australia with TEAN as your guide - check out the TEAN website for more info!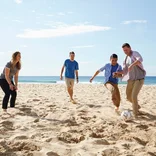 Sitting along the stunning Illawarra cliffline, the University of Wollongong presents students with a once-in-a-lifetime chance to soak up some of Australia's finest beaches, engage with locals in a moderately-sized city, and still spend a considerable amount of time exploring bustling Sydney. Ranked in the top 100 universities in the world for geography and materials science studies, the university offers a range of classes to fit all fields of study.
TEAN by WorldStrides Diversity Scholarship
This scholarship is offered for summer and semester programs and is intended for students with identities historically underserved in education abroad. This can include, but is not limited to, individuals who identify as African American/Black, Hispanic/Latino, Asian American, Alaskan Native, American Indian, Native Hawaiian, LGBTQIA+, First-Generation College Students, U.S. Military Veterans, students with disabilities, and/or students at Minority-Serving Institutions.