ISA Study Abroad in Barranquilla, Colombia
2 travelers are looking at this program
Study abroad with ISA in Barranquilla, Colombia
Barranquilla (population approx. 2 million), is situated along the Magdalena River in northern Colombia in the country's tropical and vibrant Caribbean Coast. The city is known as the "Golden Gate to Colombia" and is a fun-loving but hardworking, cosmopolitan port city. Barranquilla is primarily known for its UNESCO recognized spring Carnaval celebrations as well as the salsa, cumbia and merengue music and dance that fill the city year-round.
While studying at one of the best universities in the Caribbean region, the ABET accredited Universidad del Norte, students will have the opportunity to learn Spanish, take courses with locals, and quickly become a local Barranquillero themselves. Check out our website for more information!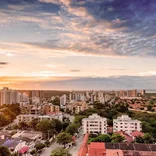 The Universidad del Norte is one of the top universities in Colombia and the Caribbean region. Institutional internationalization is a priority for the UniNorte, whose civil, electrical, electronics, industrial, mechanical and systems engineering programs have been accredited by the Engineering Accreditation Commission of ABET. ISA students may take courses in English or Spanish alongside Colombian students. The university's U.S. style is both modern and accessible.
ISA Scholarships and Financial Aid
ISA is committed to increasing all students' access to study abroad's many benefits. We don't let financial hardships to get in the way of a life changing educational experience.