SFS Study Abroad: Sustainable Development in Costa Rica
View Other Details

Program Details

Degree Level

Associates

Bachelors

Pricing

Price Details

Program fees include tuition, housing, daily meals, field excursions, entrance fees, cultural activities, advising services, airport transfers, 24/7 mental health and well-being support, official transcript processing and more – check out our website. Need-based scholarships available.

What's Included

Accommodation

Activities

Airport Transfers

Classes

Meals

Transportation

Wifi

What's Included (Extra)

No Application Fee!

What's Not Included

Airfare

Travel Insurance

Visa
11 travelers are looking at this program
SFS offers some of the best (and most adventurous!) hands-on study abroad programs. Our programs in Costa Rica explore pressing environmental issues such as climate change, biodiversity conservation, and sustainability. Students learn through outdoor lectures, hands-on field exercises, and activities in cloud forests, farms, and national parks.
Students live on a tropical farm waking to the sounds of birds while enjoying fresh local coffee before heading into the rainforests and mountainous landscapes of Costa Rica to learn. Despite the country's small land size, it is home to 5% of Earth's species and is known worldwide for its sustainable conservation strategies.
Click on Visit Site above to learn more about studying abroad in Costa Rica with SFS!
Program Highlights
Earn academic credit: 18 credits for semester programs and 4-8 credits for summer programs. Conduct a 4-credit research project during the semester program.
Explore the many different ecosystems found in Costa Rica – from rainforests and cloud forests to national parks and coastal ecosystems.
Go behind the scenes at a local coffee and chocolate farms, fishing villages, and agroforestry projects to learn how Costa Ricans have successfully combined agriculture and conservation.
Study fascinating topics like tropical ecology, sustainable land management, climate change in tropical ecosystems, agroforestry and conservation, tourism impacts, food systems, and more!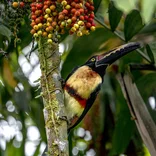 Spend a semester studying sustainability in Costa Rica, home to rainforests, volcanoes, rushing waterfalls, and a laid-back culture that reflects the national motto: "Pura Vida." Immerse yourself in the country's many national parks, farms, and tropical ecosystems full of incredible biodiversity. Design and conduct a field research project.
5 classes | 18 credits | One life-changing study abroad experience.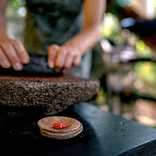 Using coffee and chocolate as case studies, explore the relationships between food systems, ecology, conservation, and sustainability. Learn how different agricultural techniques have the potential to restore biodiversity and combat climate change. Harvest cacao by hand, learn about organic coffee production, and experience the laid-back culture of Costa Rica.
1 class | 4 credits | One life-changing study abroad experience.
National parks and cloud forests become your classroom as you investigate issues of biodiversity, conservation, and sustainability from a community point-of-view. Explore diverse perspectives on controversial environmental management issues, learn to conduct community-based data collection, and assist community members in reaching their own solutions to natural resource management and protection.
1 class | 4 credits | One life-changing study abroad experience.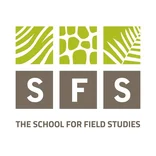 The School for Field Studies Scholarships
SFS works closely with your home school to help you fund your SFS program. Many applicants receive aid through their home institutions or other outside sources, so check with your financial aid office to see what aid may apply to an SFS program.